Raw Food Health Levels
Finding Your Own Raw Level
Is the idea of raw food health appealing to you, but you're not quite sure what level of raw you should be aiming for? There are several different ways to approach a raw food diet.
Even a small step in the right direction can deliver substantial benefits. You can achieve a steady improvement in your health by gradually increasing the amount of raw vegetables and fruit you eat.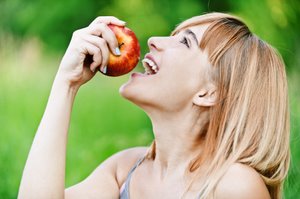 The wonderful thing about transitioning to a higher level of raw foods in your diet is that the benefits can be felt so quickly. Within a few days your energy flows more strongly and clearly. This empowers your resolve to boldly move forward and go deeper into the challenge.
Could You Eat More Raw Food?
You may be considering lifting your raw food levels to a healthier than average 50% of your diet. Raising the bar higher to 60%, 70% or 80% raw food is not easy but will bring exponential benefits for your efforts.
Those who attain 95-100% raw are in a league of their own, but most mere mortals (like me) struggle to maintain a completely raw food diet for longer than a few months at a time.
Actually for many people eating a 100% raw food diet is not a desirable goal. Reasons for this vary, but include health restrictions, taste preferences, the desire to participate in the social aspects of cooked food and the added expense of using 100% raw condiments and oils.
It's generally easier to balance your nutritional (and social) needs by eating some cooked food. I'm not talking 80% raw, 20% MacDonalds here – but about supplementing your largely raw foods diet with cooked vegetarian/vegan meals. Eating cooked food that includes legumes, tubers and wholegrains that aren't easily assimilated raw can actually be a sensible course of action.
I risk being decried to the hills by a small number of raw food purists, but actually most raw foodists blogging about their experiences with the raw food diet or offering coaching services are very encouraging of any increase in raw foods consumption. They're accepting of your individual choices about what is suitable for you. Remember we're not just talking about improving physical health here. Obsessing unhappily about only eating raw foods isn't good for anyone's mental state.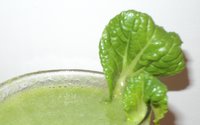 That's why I'm passionate about encouraging and supporting everyone who wants to eat more raw vegetables and fruit, no matter what level of raw they're aiming for. It's not only worthwhile for the impact on your health, but increasing consumption of raw plant foods works positively for the planet, too.
The take home message here is if you can eat an extra apple or carrot each day then good on you, that's progress. If you can grow that apple or carrot yourself then even better. When you're ready to take the challenge further and boost your raw levels higher towards glowing health and vibrant energy, I'd love to help you out at Growing Raw Food Health.
Raw Food Health Levels
What do all these different "levels of raw" mean? If you're a raw foodist, aren't you just completely raw?
Opinions divide, but most "raw foodist" bloggers and coaches would accept that people eating high raw (80% or more of their calories from raw food) are on a raw food diet. Of course, most kudos is reserved for those that successfully attain a pure raw state, obtaining 100% of their calories from raw food.
Apparently there are heightened spiritual and mental benefits to being 100% raw. I've only eaten a purely raw diet for 3-4 months at a time, but even that felt magnificent. I had glowing physical health and heaps of energy. Mostly I'm a high raw vegetarian and that works very well for me.
Raw food diet fans like myself are happy to see anyone get their consumption of raw vegetables and fruits up to 50% of their diet. I'm even happier when you grow your own and send me a photo of your vegetable patch , herb garden or blossoming orchard to admire.
Raw Percentages
What's all this talk about percentages anyway? Does "60%" mean 60% of your calories are from raw food, or 60% of the food volume or weight is raw?
The % refers to the number of calories you consume from raw food. After all, if we were talking volume then a head of iceberg lettuce would probably get you across the line each day! Yet at 90 calories all that lettuce would only represent about a twentieth of your daily caloric requirements.
Your Raw Choices
If you're into calorie counting – or, more commonly, calorie estimating (like myself) – then these percentage systems can help you work out more or less accurately how 'raw' your diet is.
Use an energy needs calculator to find out how many calories you need each day. There are variations depending on your activity level and body shape, but a basic rule of thumb is that women need 2000 calories a day and men need 2500. Decide what percentage of raw food health you want in your diet and calculate how many calories have to come from raw food.
For example, if you are a woman who wants to eat 70% of your calories from raw food, then multiply 2000 by 0.7. The answer is 1400 calories daily from raw food. The other 600 calories can come from healthy cooked food such as wholegrain products, vegetable stir-fries and curries and beany burritos and tacos.
Many people prefer a more relaxed approach to eating more raw foods. For example, setting yourself a guideline such as:
Eat a raw breakfast every day.
Eat raw foods until midday.
Eat raw foods until dinnertime.
Ensure ¾ of every meal is raw.
Eat only raw snacks and drinks all day.
Drink a green smoothie every day.
Eat a raw vegetable salad every day.
Eat a completely raw diet for one or more days each week.
Regularly detox with raw foods.
Have no doubt, these are all legitimate and healthy choices. If you're beyond any of these that's great and you can pat yourself on the back. If you're not doing any of these and you start doing even one, then you are taking a major positive step in the right direction. Read more about how people start eating more raw foods and their motivations for changing their diet.
Of course the rest of your diet should also comprise largely healthy food choices.
Articles Related to Raw Food Health Levels:
Click here to read about how different
levels of raw food
health are working for other Growing Raw visitors.
What's Your Raw Level?
How much raw food do you eat? Are you happy with the level of raw food in your diet? What benefits have you noticed at your level of raw?
Raw Food Health Levels of Growing Raw Visitors
Click below to read about how different levels of raw are working for Growing Raw visitors...

Back to Raw Food Health from Finding Your Own Raw Level
Back to Healthy Eating Guide home from Raw Food Health Levels – Finding Your Own Raw Level