Why is Nutrition Important?
Why is nutrition important to your health? Good nutrition supplies your body with powerful health benefits. Eat well to ensure you get the recommended daily amounts of essential nutrients.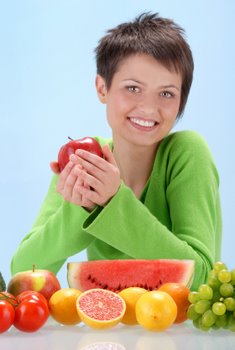 Here's what excellent nutrition can give you:

• more energy
• better health
• a stronger immune system
• healthy blood
• strong bones and teeth
• more rapid healing
• good nerve and muscle function
• stabler moods
• a healthier heart
• better skin
• better hair
• weight control
• reduced risk of chronic disease
• lower blood pressure
• reduced risk of cancer

Eating more vegetables and fruits can boost your levels of vitamins, minerals, antioxidants, phtyochemicals and fibre. Different fruits and vegetables have different compositions of nutrients, so eat a diversity to get a good supply. The best diet is a varied one.

Absorbing Nutrients in Foods
The absorption of nutrients in foods can sometimes be enhanced by the foods they are eaten with. Combine sources of key nutrients with food partners that will aid their absorption into your body.

Good Mood Food
Good mood food can help you feel happier and more energetic. Relieve fatigue and lift the gloom with some of these mood enhancing foods.

Antioxidant Fruits (opens in new window)
Check out the antioxidant powers of fruit. Learn about the health benefits of antioxidants and find out which fruits contain the highest amounts.
Back to Healthy Eating Guide home from Why is Nutrition Important?