Growing Herbs
How to grow and use natural healing herbs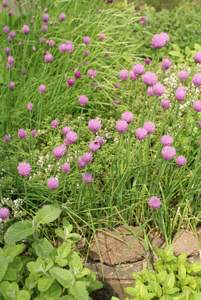 Growing herbs is immensely rewarding, especially when you know how to use them effectively for medicinal and culinary purposes. As well as looking lush, herbs can help you in your home. In this series of articles from expert guest writer Raymonde Savoie Johnson, we will:
Together we'll come to fully appreciate these wonderful plants, and feel inspired to create our own attractive and useful herb gardens.
Would you like to have the freedom and ability to grow fresh, flavourful herbs and have them at your fingertips when you need them? Besides offering tasteful 'oomph' to your kitchen menu items, herbs can also be used to provide aromatherapy benefits, add ornamental value to your landscape, become craft materials and gift you with basic healing remedies that you can safely make for yourself at home.
Growing a thriving herb garden is easy and can be as simple or as elaborate as your vision can make it. Whether you wish to have just a few herbs growing near your kitchen sink, or an enclosed herb garden next to your potager, the trick to being an herbal green thumb is to know the herbs you wish to grow.
All plants, including herbs, need certain cultural requirements in order to reach their optimum growth potential. If you provide them with these requirements, then they will reward you accordingly. There is no doubt that you will gain a lot of satisfaction from growing your own herbs; it's such an autonomous thing to do!

Herbal sleep aids


Trying to get to sleep? Herbal sleep aids can give you a gentle nudge towards rest. You can make a simple herbal sleep remedy at home using ingredients grown in your garden.

Basic herb garden tips


These basic herb garden tips give you a general guide to growing herbs. You can grow herbs anywhere a plant can grow. In rows in a garden bed, in raised beds, in containers, or in a no-till garden that you can make yourself. The only limit is your imagination!

Growing herbs indoors


In this article, we will show you how to grow your herbs indoors. Within easy reach to meet your needs, herbs in your home will become helpful friends and soul-pleasing companions.

List of herbs for indoor herb gardens


To further help you choose plants that will do well inside your home, here is a list of herbs that are proven winners in this category.

Herb garden plans


Here are four basic herb garden plans for growing herbs in different themed gardens; culinary, medicinal, ornamental and aromatic.


The healing power of herbs


The Healing Power of Herbs series provides factual and reliable information about how to make herbal medicines.
Part 1: Natural healing herbs
Part 2: What is a simple or herbal remedy?
Part 3: Are herbs safe?
Part 4: How do herbs work and heal?


Online herbal remedies advice


Learn to do it yourself with this online herbal remedies advice. Make simple home herbal remedies such as teas, infusions, decoctions, tinctures and poultices from common garden herbs.

How to make homemade herbal teas


Make homemade herbal teas and herbal infusions using these clear instructions. This article includes a list of tea-making herbs and their healing properties.

How to make a herbal decoction


This article contains clear instructions on how to make a herbal decoction. Learn about the health benefits of herbal decoctions made from white willow, Echinacea and valerian.

How to make a tincture


Learn how to make a tincture with these straight forward instructions. Making herbal tinctures is a process that extracts and preserves the medicinal properties of herbs.

How to make a poultice


Learn how to make a poultice from fresh herbs. Herbal poultices can be applied to the skin to achieve various medicinal benefits.

Safe use of herbs


Please give careful attention to this important note of caution regarding the safe use of herbs. Check this list for herbs that are unsafe to give to children younger than twelve. Also be cautious using herbs for people suffering from asthma and allergies, pregnant women and people with thyroid problems.
Back to Healthy Eating Guide home from Growing Herbs