Green Smoothie Health
Green Smoothie Recipes and Tips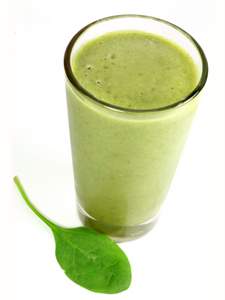 Drinking a green smoothie a day is one of the best healthy eating habits you can make for yourself. Green smoothie recipes are convenient, delicious and full of raw nutrition.
Learn how to make the healthiest smoothies and get that raw green smoothie skin glow!
Don't worry, you won't actually turn green, but if you're attempting a raw food diet or simply trying to build up some healthy eating habits , give green smoothies a try.
Healthy Food Habits
Making a habit of drinking a green smoothie each day is one of the easiest healthy food habits to establish. Green smoothies taste good and make you feel good.
There's no pain in adding something healthy into your diet rather than feeling you have to deprive yourself by cutting something unhealthy out.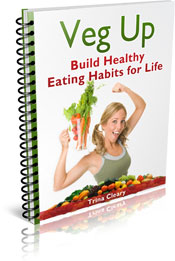 Actually one of the greatest things about the green smoothie habit is that not only is it easy to establish, it naturally and gradually helps you change bad eating habits. It's an excellent first step towards a healthier you.
Green smoothie habits are so valuable and worthwhile that they form one of the major backbones of Growing Raw's Veg Up workbook, supporting the process of building healthy eating habits for life.
Health Benefits
In a green smoothie you get all the nutrition of organic raw fruits and vegetables blended down into tiny pieces that are easy for the body to digest. The fruits and vegetables in green smoothies also still have their fibre, because they're blended rather than juiced.
The typical base ingredients of green smoothies are green vegetables such as spinach, kale, bok choy, parsley, sprouts. Usually the greens comprise about 40-50% of a green smoothie, but you can start with less and build the ratio up slowly.
Drinking 2-3 cups of healthy organic green vegetables gives you an easy way to nourish your body without adding the dressings or oils you would add to those same green vegetables in a salad.
Green vegetables are high in vitamin C, chlorophyll and fibre and contain vitamin A, calcium, iron and antioxidants. Regularly drinking green smoothies builds a healthy habit of eating greens, and don't be surprised when you start craving more and more greens in your diet.
Best Green Smoothie Superfoods
Spirulina
If you only include one
superfood
in your diet, spirulina is the one to try. In my experience it has the strongest and most positive short term effects. It works like a double espresso but without the fade-out at the end of the ride.
The beautiful thing about spirulina is that it is a nutrient-dense, alkalising green that contains complete proteins. If you're a vego, vegan or raw foodist with concerns about balancing out complementary proteins in order to achieve an adequate protein supply, then a spirulina top-up will really rock your boat.
Spirulina comes in super-handy on days when you run short of fresh leafy greens. You can blend up your ripe fruit with ½ - 1 tablespoon of spirulina and receive all the benefits of leafy greens in a much more convenient form. Build up your spirulina dosage gradually though (start with 1 teaspoon).
Wheat Grass
Wheat grass is the other popular and effective superfood alternative to leafy greens. Wheat grass is basically the equivalent of a super-vegetable, being a concentrated food source of nutrients commonly found in green veggies.
With wheat grass it is particularly important that it's harvested at exactly the right time (the jointing stage) and grown in optimal conditions for nutrient build-up.
You're often better off purchasing top quality organic dried wheat grass than picking up a tray of fresh wheat grass from your health food store. For a start, the shop grown version won't pack the same B12 punch (which is actually due to micro-organisms growing on the wheat grass) that optimally grown wheat grass will.
How to Make Green Smoothies
When you have a decent blender green smoothies are a snap to prepare. Simply wash your greens, chop your fruit, add water and superfoods and blend for 30-60 seconds.
Make enough extra to drink throughout the morning and you won't have to stop for a snack later, you can just get on with what you want to do while you top up with green smoothie.
To save yourself time in the morning you can wash your greens and chop your fruit the night before and keep it all together in the fridge. Then all you have to do is empty your ingredients into the blender for a convenient and portable nutrition source.
For more detailed instructions and smoothie combinations check out how to make smoothies.
Favourite Green Smoothie Recipe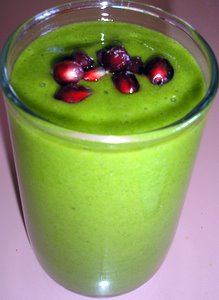 We are huge fans of bok choy as a smoothie base in our house. Not only is it easy to grow ourselves so that we know our supply is fresh, organic and cheap, but it gives a light fresh flavour that we all love, including the kids. Here are some of our favourite bok choy combinations:


Bok choy and banana
Bok choy, rockmelon and banana (the kids' favourite)
Bok choy, honeydew and kiwifruit
Bok choy, rockmelon and persimmon
Bok choy, papaya and banana
Bok choy, persimmon and banana (my favourite – must grow a persimmon tree!)
For extra calcium, bok choy bases blend well with chia seeds soaked overnight into a jelly. Chia seed is a reasonably priced superfood that has 5 times the calcium content of milk.
Combinations that seem to give a huge boost in vitality and endurance tend to be an impressively dark green. They're the kind of green that people really stare at when they see you drinking them... here's a sample:

Spinach or silverbeet, melon, banana and hempseed oil (a superfood that's great for immunity)
Kale, kiwi fruit and very ripe bananas
Parsley, mint, spirulina , melon and bananas
Spinach or silverbeet, sprouts , persimmon and banana (this is for the really brave, but trust me you will feel fantastic after one of these...)
Even though you're sure to find your own favourites, remember it's a good idea to vary your green smoothie ingredients so that you get a diverse range of nutrients.
Special purpose smoothies can give your body a health fix that is easily absorbed and processed. Check out Growing Raw's:

Body detox smoothie
Good mood smoothie
Alcohol detox smoothie
Creamy smoothie
Healthy Habits for Kids
By the way, kids will love sharing your green smoothies. Give them a straw and their own small cup of green smoothie and you'll be surprised how easy it is to get their daily greens into them.
The sweetness of the fruity ingredients gives green smoothies a flavour that's appealing to children, and the fact they can drink it instead of chewing it is a huge bonus.
Green smoothies give parents seeking healthy eating for kids a huge advantage.
Healthy Breakfast Foods
Looking for healthy breakfast foods ? Starting your day with a green smoothie gets you going on the best fuel you can give your body. Drinking a green smoothie starts you with your best foot forward and helps you maintain your energy and focus throughout the day.
A large green smoothie is surprisingly filling, and will keep you satisfied until a late morning tea or lunchtime. People might look at you as if you're crazy when you talk about drinking spinach for breakfast, but there are compelling health reasons for choosing greens first.
Green Smoothie Diet
Beating off hunger with a green smoothie helps dieters stick to their
healthy eating plans.
Low in fats and calories, high in fibre and nutrients, green smoothies are the ideal diet food. The
best weight loss plan
is to focus on developing healthy eating habits like daily raw green smoothies.
How to Make Smoothies

Here are simple instructions on how to make smoothies that are green, healthy and delicious.
Green Smoothie Shortcuts

Getting into a green smoothie routine is a quick and easy way to add a dose of health to your day. Here are a few shortcuts that will make it even easier for you.
Superfoods for Smoothies

Want to feel superhuman? Superfoods can give you superpowers. Find out which superfoods you need to add to your smoothies.
Best Blenders for Smoothies

Here are a dozen questions you should ask yourself when you are checking out blenders for smoothies. These will help you find the best blender for your needs and budget.
How to Make a Power Smoothie

Simple instructions for how to make a power smoothie that will give you an energy boost and enable you to build your strength.
How to Make a Good Mood Smoothie

Here's a good mood smoothie that tastes creamy, nutty and sweet. Feel calmer and less stressed with this high trytophan recipe.
How to Make a Body Detox Smoothie

Check out the purple glow of this super body detox smoothie – just the colour is enough to purify your system! This smoothie is a miracle antidote for over indulgence. Read on for instructions on how to detox your body and erase your guilt with the Purple Purifier...
How to Make a Creamy Smoothie

A creamy smoothie is super-filling and provides long lasting slow release energy. Learn how to make a creamy smoothie without dairy products so that it is low in calories and suppresses your appetite.
How to Make a Peach and Watermelon Smoothie

This peach and watermelon smoothie recipe enlivens the senses with the Summer freshness of peaches with the sweet and juicy lift of watermelon.
Alcohol Detox Smoothie

This alcohol detox smoothie recipe contains a daily dosage of milk thistle seeds, vital for the healthy regeneration of your liver. It uses a solid combination of cleansing foods to detoxify the body of alcohol, perfect after a night of over-indulgence or to support a longer term detox programme.
Your Green Smoothie Stories

Do you drink green smoothies? Read about the green smoothie drinking habits of Growing Raw visitors and tell us your own green smoothie story.
My Best Blender

The best blender for smoothies is not necessarily the most expensive. Compare blenders, check blender reviews and you can find a perfectly good blender for a reasonable price. Here's my personal experience of the Sunbeam Cafe Series PB9600.
Best Blender Reviews

The best blender reviews come from people who are really using them. Check out which blender models are rated as the best blenders by Growing Raw visitors. If you use a blender regularly, please share your experiences and help other visitors find a good blender.
How to Clean a Blender

Here are simple instructions on how to clean a blender. Clean your blender after each use to prevent bacterial growth and remove any residue.
Back to Healthy Eating Guide home from Green Smoothie Health