How to Make a Good Mood Smoothie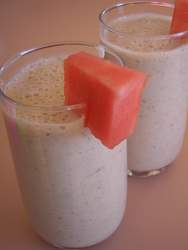 Here's a good mood smoothie that tastes creamy, nutty and sweet. Feel calmer and less stressed with this high trytophan recipe.
Banana smoothies are super when you need an energy or mood boost. The concentration of tryptophan, magnesium, potassium and carbohydrates in bananas makes them my good mood superfood of choice.
Mung bean sprouts are also surprisingly high in tryptophan. They are a powerhouse of nutrients, including magnesium, which is known as the anti-stress mineral.
Good mood smoothie recipe
Makes 1 to 1.5 litres (3-4 large glasses)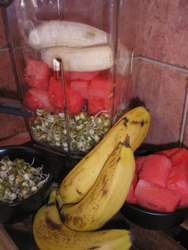 Ingredients
2 cups mung bean sprouts
2 cups watermelon
3-4 ripe bananas
250 ml water or ice
agave nectar (optional low GI sweetener)
Steps
Place the mung beans, watermelon, bananas and water into your blender and blend for 30 seconds or until combined.
Pour into a glass and drink straight away. Try to drink at least 2 glasses.
Tips
Just run out of mung bean sprouts? (You ate them all for breakfast, right?) Spinach and tofu are other high tryptophan foods that you can use to make a banana smoothie. In the meantime, get those mung beans sprouting.
After relishing your good mood smoothie, take good care of yourself for at least half an hour and let its magic take effect. Sit quietly in your garden, do some gentle stretching or listen to some chilled out music. Look at the sky.
Back to Green Smoothie Health from How to Make a Good Mood Smoothie
Back to Healthy Eating Guide home from How to Make a Good Mood Smoothie