Easy Raw Food Recipes
Recipes and Tips for Making Raw Food Fast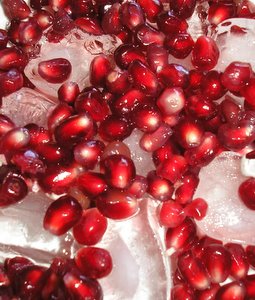 Start with these easy raw food recipes and tips and work your way towards gourmet.
One of the earliest challenges that raw foodists come up against is the amount of time it can take to prepare raw meals. When you get to the end of the day and look around your chaotic kitchen and realise you've washed the dishes three times, rinsed the blender out twice, scrubbed the juicer and the food processor and lost count of how many times you've wiped the chopping board, you need to stop, take a deep breath and simplify.
Excessive preparation time can become even more of a problem when you're actually very hungry. Although this is one of the best times to listen to your body's healthy cravings and tune in carefully to what you really need, it's also a time when you're vulnerable to temptation.
The speed of access to pre-packaged convenience foods coupled with any lingering cravings for fatty or sugary foods can undo you. It helps your determination and motivation to hold steady if healthy food choices are at hand or easy to prepare.
5 Tips to Get Raw Food Fast
#1 Keep It Simple
It is exciting to experiment with all the delicious new raw food ideas that you come across in the recipe books and on raw blogs. Tempting as it is to jump in head first and take on several gourmet food projects a day, this can burn you out fast.
Long preparation times delay your raw buzz. Although the astonishment you sometimes feel at the unique and wonderful flavours you can concoct in your raw kitchen can be deeply inspiring, you don't want to have to plough towards every meal.
So in the beginning, keep it a little simpler. Sure, experiment, but maybe limit yourself to one fabulous new recipe each day until you get your training wheels off. The other reason to ease into gourmet raw recipes a little more slowly is that it can take a while to build up your stock of fancy ingredients, as some of them are quite costly, especially if you're strictly only purchasing the raw versions.
Salads and blended soups with only 4-5 ingredients are good for simplifying your raw menu. Dehydrated crackers and simple raw dips also make a satisfying and easy meal.
#2 Have Stand-bys Ready
Weak points arrive when you're hungry or have a craving and there's no raw food that appeals to you ready. The solution here is to put a little away each time you prepare a raw meal. You may have to increase the quantities of some ingredients, but the small serving you put away for the next day could be the one that saves you from reaching for unhealthy convenience foods.
#3 Prepare
Prewashing: Separating, washing and spinning greens ahead of time will give you a headstart by providing the base for your salads and green smoothies. Vegetables such as carrots, capsicums and zucchinis can be scrubbed and even chopped and stored in the fridge in airtight containers. It is preferable to wash veggies and fruit just before you use them, but if you plan to use them within a day or two pre-washing can give you the headstart that ensures you actually get around to eating them.


Blending: Green smoothies can be prepared in large enough volumes to last two days. Store in BPA-free, airtight containers in the fridge. Having a few drink bottles full of green smoothie ready to grab and go can be a life-saver.


Juicing: Enough vegetable juice for a couple of days can be stored the same way. The beauty of juicing in advance is that you have the juice pulp available for making crackers and raw loaves.


Dehydrating: Until you get in the swing of things, dehydrating can feel like a bit of a mission. It is worth experimenting with some simple cracker recipes that utilise your juice pulp, because dehydrated crackers are one of the most versatile and satisfying meal components to have around. Once you've done a large batch they should last weeks as long as you've fully dehydrated them.

The next step from crackers is to dehydrate yourself kale chips or something similar that will feel like an indulgent snack. These are easier than you may think - the trick is to find a saucy coating for them that you love. I can recommend Choosing Raw's tomato tahini combo, but it can be as simple as massaging kale leaves in oil and salt and dehydrating them like that.
#4 Eat Occasional Monomeals - Or More If You Love 'Em
Monomeals are great for the digestive system as there are no food combining issues. A monomeal simply consists of one type of fruit of vegetable - but you can eat as much as you like of it. For example, a dozen bananas in one sitting is no problem for Andrew Perlot, author of
The Raw Food Lifestyle.
Many raw foodists live largely on monomeals and feel very satisfied and happy. Although I relish the occasional grapefruit monomeal I generally like more variety.
#5 Easy Raw Food Recipes for Snacking
Raw food is actually ideal for snacking. Once you get on the roll with raw food you'll actually find healthy snacking easier than before. Here are some examples of quick raw snacks:
Grate a zucchini or carrot and mix with the juice of half a lime or lemon and a tablespoon of your favourite nutty oil.


Chop a piece of a harder fruit such as apple or pear and dip the pieces in nut butter.


Peel and split a citrus fruit such as a grapefruit or orange and dip the segments in agave nectar.


Halve an avocado, remove the seed and fill the hollows with lime juice, raw chilli sauce or a creamy raw dressing.


Grab a sheet of nori and wrap it around a banana. (Sounds strange but tastes good!)
The good news is that down the track you can harness one of the major benefits of eating raw - more time! Raw foodists generally thrive on less sleep than average, and feel more energy when they are awake.
Some of this extra oomph can be channelled into food preparation so that you have more regular gourmet options available. When you're ready to experiment with gourmet raw, here are my most highly recommended gourmet raw diet recipes. Pretty soon you'll be capable of creating your own raw living food recipes.
Once you start making your food preparation time more productive by running roughly to a schedule and preparing multiple dishes at once, then you'll really be able to cut down on food prep and get your raw food fast.
Update: I have just discovered Everyday Raw Express: Recipes in 30 Minutes or Less
, and it is the best book for easy raw food recipes that also taste gourmet. Read about why it is my favourite raw food recipe book.
Articles Related to Easy Raw Food Recipes:
Back to Growing Raw Healthy Eating Guide home from Easy Raw Food Recipes - Recipes and Tips for Making Raw Food Fast