Advantages of Organic Food
The benefits of organic food to you and the planet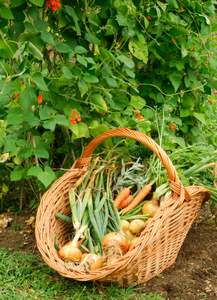 The advantages of organic food are substantial, both to your health and your environment. Empower yourself by choosing to eat organic food and selecting organic gardening methods whenever possible.
Eating organic food enables you to:
know your food
improve your health
help the planet
Since the fast-food mentality has been adopted by grocery food chains, we have become deluged with greenhouse-grown produce that bears little resemblance to real vegetables and fruits except for their appearance. The texture and taste of a supermarket tomato are just not the same as a home-grown tomato or one that is sourced organically. The same applies to all our vegetables and fruits that we can grow locally.
It makes sense, then, that we endeavour as much as possible to take steps to bring about another green revolution, an organic one, in our own backyards. This is one of the best ways to empower ourselves in this age of convenience where products and services are readily available, but at a very high price. The price we pay is the health and well-being of ourselves and our children, and the time has come to stop and take back this important responsibility.
Since we are what we eat, eating and growing organic will produce a better digestion for all and therefore good overall health, including sound sleep patterns, an enhanced immune system and a stable mental and emotional outlook on life. This brings peace of mind.

Health Benefits of Organic Food


What are the health benefits of organic food? Is organic food really healthier for you? Is it worth the cost of buying organic food or growing your own? Yes. Here's why.

Organic Gardening Leads to Self-Empowerment


Organic gardening leads to self-empowerment. You can take control of your health, regain autonomy, know your food and find your place in the Earth's rhythms.

List of Healthy Food to Always Eat Organic


Know your list of healthy food to always eat organic, and what produce is relatively safe to eat non-organic.

Organic Gardening for Beginners


Organic gardening for beginners can seem an overwhelming task, with so much to learn and do. You can build up your organic vegetable garden over several seasons.

Organic Heirloom Seeds


Organic heirloom seeds offer many advantages to the home vegetable gardener. Heirloom vegetable seeds deliver on taste and nutrition whilst providing greater variety and food security.