About Me
Hi, I'm Trina, editor of growingraw.com. The 'growing' in growingraw signifies more to me than growing plants – it's also about the growing people do when they become more closely involved with their natural environment.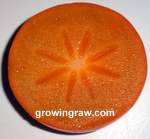 I live with my family on a bush block in south-eastern Australia where we're reliant on rainfall for our water supply. We grow a large amount of our own food in our home vegetable gardens, which include a polytunnel. We grow most of our own vegetables and at various times of the year we grow onions, tomatoes, capsicums, lettuce, mustard greens, mizuna, rocket, sweet corn, leeks, watermelon, baby spinach, bush pumpkins, zucchini, bokchoy, broccoli, beets, silverbeet, beans, eggplant, Spanish onions, snowpeas, peas, lemons, limes, basil, parsley and coriander.
I'm a professional educator and with the added perspective of being a Mum, I take a strong interest in kids' development, happiness and self-esteem. I believe that children should realise how important their natural environment is to their survival. Nature supports their lives and children should learn to reciprocate that by taking care of the natural life surrounding them.
I also have a strong interest in maintaining excellent health for myself and my family. In recent years I've earnestly researched healthier lifestyle habits, many of which centre on healthy eating. The beginning of healthy eating is growing healthy food. It's very satisfying to supply some of your own food and know that it is fresh, high quality, organic and environmentally sound. It is also readily available and cheap.
Whether you're growing your own food or spending good money on buying organic, it's worth getting the most out of what you eat. Specifically, I've been seeking greater energy for myself and excellent nutrition for family.
When I started experimenting with eating raw I had so many questions about eating an organic raw food diet. I spent months researching information and reading stories from others on raw food journeys. Then when the results of my raw food health changes became obvious to my friends and family, people started asking me questions... I want to share what I've learned so I can help other people feel as great as I do, and help save the planet too!
Growingraw.com is the result of all those questions, including mine. Through experimentation and research, I'm gradually discovering the answers. Please feel welcome to visit growingraw.com often and see what's come up on the journey. Hopefully some of my research will be as useful to other people as it has been to me.

Back to Healthy Eating Guide home from About Me