Healthy Breakfast Menu
Healthy Breakfast Foods, Smoothies and Drinks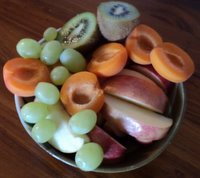 Planning on a healthy breakfast menu? Explore a range of options for healthy breakfast foods, smoothies and drinks that will give you a boost right from the beginning of your day.
Breakfast is the most important meal of the day. Breakfast restores our blood sugar levels, gets our digestive system moving, and helps us to concentrate more on our daily tasks.
It's been said time and time again that a healthy breakfast menu is vital for successful weight loss. It wakes up your metabolism and tells it to get to work burning fat and calories. It gives us a good foundation so that we are less likely to impulsively binge on junk food snacks mid-morning. People that regularly take time for a healthy breakfast end up losing more weight than dieters who skip this meal.
So why is it that with all of these benefits, it is also the one meal that we still skip the most? Or that we take the least amount of time to enjoy?
There are many quick and easy options for delicious foods that give your body the morning jump start it needs. After trying a few of them and seeing how good a healthy breakfast menu can make you feel for the rest of the day, you will never want to settle for a nutritionally-void Pop Tart, commercial breakfast cereal, greasy sausages or white bread toast ever again.
Healthy Breakfast Foods
A lot of us think that we do not have time to make a great, satisfying meal for breakfast, so we sell ourselves short and grab a quick bowl of low-quality boxed cereal, a doughnut, or we pop some white bread in the toaster. But think about it – it would take just as much time to grab a bowl of hearty, protein-filled granola, a whole wheat pumpkin muffin with seeds or some heart-healthy whole grain toast spread with almond or peanut butter.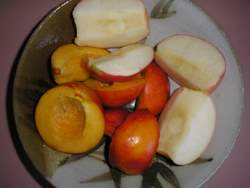 Many healthy breakfast foods don't require a lot of preparation time. How many people really want to get up earlier just to begin an extensive cooking project? There are many healthy breakfast menu options that you can have on hand ahead of time. Even on those mornings when you are running late there is still no excuse not to nourish your body.
You can make a big batch of muffins on a leisurely Sunday afternoon, pop them in the refrigerator and have them ready to go for the week. Make sure to include lots of whole oats, sesame or flax seeds, shredded carrots or pumpkin as a natural sweetener, walnuts or chopped almonds – the possibilities are endless!
Granola is surprisingly easy to make, and homemade granola usually tastes better than overly-sweetened store-bought varieties. It ends up being much more inexpensive, lasts a long time and also makes a great midday snack to grab for the road. Here is a basic recipe, but feel free to add or substitute ingredients as you see fit:
Granola Recipe for a Healthy Breakfast Menu
Take ½ cup of apple juice or cider, ½ cup of almond butter, ½ cup of pure maple syrup, and 1 tablespoon of real vanilla extract. Mix this up well or throw it all in the blender. Combine 8 cups whole oats, a few liberal teaspoons of cinnamon, 1 cup of any mixture of nuts or seeds such as walnuts, almonds, sunflower, sesame or flax seeds, put these in a large pan and cover with the liquid mixture. Bake at 350 degrees until it browns up, stirring every 5-10 minutes or so. Let it cool, add in any raisins, shredded coconut, dried apples, or anything else that sounds appealing. Store this in airtight containers. You will wonder why you haven't made your own granola for years! Eat it plain, or you can top with almond milk or soy milk.
If you want a warm breakfast option, especially on a cold winter morning, try a hearty oatmeal that you can top with fresh blueberries, chopped apples, dates, a drizzle of honey and a sprinkle of cinnamon. If you get bored of oatmeal, experiment with buckwheat, quinoa, or other grains that cook up just as oats do.
Healthy Breakfast Smoothies
How many of us can honestly say we meet the new USDA Dietary Guidelines which says that we should consume a minimum recommended daily amount of nine servings of fruit a day based on a 2000 calorie diet?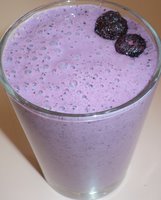 Smoothies are a great way to consume a lot of fruit. You can make a different variety every day so that you never get bored. Healthy breakfast smoothies are also a great way to sneak in some supplements, such as healthy greens like spirulina or chlorophyll, aloe, wheat germ, bee pollen, or a vitamin or mineral supplement.
Start with a liquid base, usually a juice such as apple or cranberry, soy, almond or coconut milk. Add into a blender all sorts of fruit (to have a few of them frozen helps to give the smoothie a thicker consistency). Berries work well, so play with some strawberries, blueberries, or raspberries. Peaches, papayas and frozen pears add a unique texture. Bananas make a smoothie very creamy.
Add a little hemp or flax oil for protein and essential amino acids. For taste, play around with some fresh ginger, which facilitates digestion, can enhance your immune system, and gives a zingy kick to an otherwise sweet drink, or add some raw honey to add a little extra sweetness.
Another great thing about smoothies is that you can sneak in a few greens or vegetables and not even know! The sweetness of the fruit can mask almost any vegetable flavor, so try throwing some leafy greens and make green smoothies. Begin small, and over time you may find that you are adding more veggies and less fruit, as your body begins to crave the unique flavors and powerful cleansing properties of the veggies.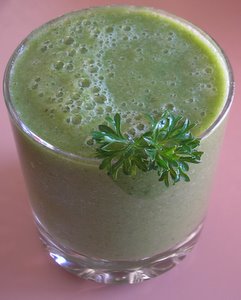 Healthy Breakfast Drinks
Most of us probably don't think past coffee, tea or orange juice for breakfast. There is a whole world of other possibilities out there!
Instead of coffee, try some of the herbal options that really do taste like coffee. Most contain a blend of roasted carob, barley, figs, dates, almonds, or chicory root. These provide you with lots of vitamins and minerals and do not acidify your body like coffee does. Even the most die-hard coffee fans may find themselves preferring the taste of these herbal blends to their traditional cup of java.
A traditional Indian chai is a great warm drink to wake up to. Chai is a spiced tea mixed with some form of milk, and contains loads of ginger, cardamom, black pepper, cloves, and cinnamon, all of which fire up your digestive system.
A juicer is a great investment for any healthy daily eating plan. Fresh juice is refreshing and cleans your body out for the day. Favourites to start with are carrots and apples for a sweet drink. A splash of lemon or a little fresh ginger adds some kick. The more adventurous can begin to play around with refreshing celery, lovely beet, or some greens.
Fresh juice is a great way to hydrate your body, flush out toxins, and give yourself the best start to the day as possible. Once you make fresh juice a part of your morning, you may easily become addicted to healthy breakfast drinks as part of your daily routine.
Healthy Breakfast Menu for a Raw Food Diet
Just because you want to incorporate more raw foods into your diet doesn't mean that you must always resort to grabbing a banana for breakfast. Try some raw banana coconut pancakes!
Raw Coconut Pancake Recipe for a Healthy Breakfast Menu
Take one ripe banana, mash it up well. Add in 2 tablespoons of coconut meat or coconut flakes, add some cinnamon, and mix well. This will make a dough, and you can then make thin pancakes out of them. Leave them to dry in the sunlight, or put them in a dehydrator on low. They don't need to be dry all the way through, just on the surface. You can make them the night before so that they are ready to go in the morning.
A breakfast cereal with the consistency of oatmeal can also still be enjoyed raw. Take 1 tablespoon of flax seed, and let it sit overnight in water to soften. In the morning, cut up 2 apples, 1 banana, 2 teaspoons cinnamon, and a teaspoon of almond butter. Throw all of the ingredients in a food processor, and you will be surprised how much this may remind you of oatmeal, but with much more flavor! Green smoothies and bowls of fresh fruit are still the easiest options for a raw healthy breakfast menu. Your breakfast bowl of fruit will vary depending on which fruits are in season so you will never get bored.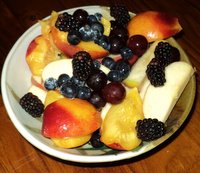 Hopefully you are inspired to wake up tomorrow and start incorporating some of these delicious options into your daily healthy eating plan. A healthy breakfast menu will give you such a great start in the morning that you will be more likely to follow through and take care of your body the rest of the day. Breakfast may become more than the most important meal of the day - it just might become your favourite meal of the day, too!


Articles Related to Healthy Breakfast Menu:
Back to Daily Healthy Eating Plan from Healthy Breakfast Menu – Healthy Breakfast Foods, Smoothies and Drinks
Back to Growing Raw Healthy Eating Guide home from Healthy Breakfast Menu – Healthy Breakfast Foods, Smoothies and Drinks