How to Make Smoothies
Make your own smoothie blends at home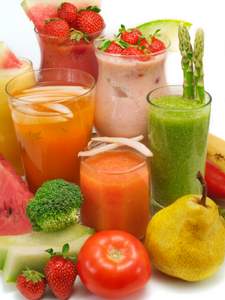 Here are simple instructions on how to make smoothies that are green, healthy and delicious. Make your own smoothie blend and know that it's fresh, without additives or preservatives. You can choose your own combinations and experiment with flavours. Green smoothies made at home are a convenient and available source of nutrients for health, energy and fighting disease.
Green smoothies are about 40% greens, 60% ripe fruit.
Green smoothie recipe
Makes 1.5-2 litres (4-6 large glasses)
Ingredients
Fresh Greens
2-3 handfuls
Ripe, Sweet Fruit
2-3 cups
Water
500ml
baby spinach
silverbeet
beetroot leaves
parsley
bok choy
kale
lettuce
sprouts
mint
good mood food bananas
rockmelon
watermelon
pear
berries
kiwifruit
honeydew
rehydrated apricots
rehydrated goji berries
apple
grapes
oranges
nectarines
apricots
plums
peaches
papaya
mango
lychees
mandarins
pineapple
cherries
persimmon
grapefruit
500ml water
jelly coconut milk
canned organic coconut milk
chilled herbal tea
fresh fruit juice
Steps
Place the greens and water into your blender and blend for 30 second or until well combined.
Add 1-2 tablespoons of superfoods to the mix in your blender. (optional)
Add fruit to your blender mix and blend for a further 30 seconds.
Pour into a glass and drink straight away.
Tips
Blend your greens and water before adding fruit so that the greens can become really well broken down. Fruit is usually softer and doesn't need quite as much blending. Blending the smaller volume of greens and water seems to be more effective in producing a smooth consistency, especially if you're using harder greens like kale, silverbeet or even parsley.



If you're saving some smoothie for later, give it a quick mix with a spoon before you drink it to re-combine the water which sinks to the bottom.



It's easiest to make smoothies in a blender, but if you don't have one you can try a food processor. The result isn't as smooth and a food processor is generally harder to clean than a blender, but if you're experimenting before investing in a blender a food processor will give you an insight into how a smoothie will taste. You'll just have to chew a few chunks and look forward to a smoother consistency once you invest in a blender.

Back to Green Smoothie Health from How to Make Smoothies
Back to Healthy Eating Guide home from How to Make Smoothies