List of Herbs for Indoor Herb Gardens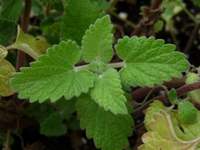 catnip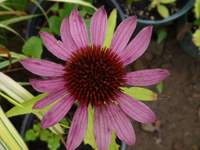 echinacea


To further help you choose plants that will do well inside your home, here is a list of herbs that are proven winners in this category.

15 Herbs that will grow well together in a small dish garden, are flavourful and/or medicinal:
Basil, Ocimum basilicum
Parsley, Petroselinum crispum
Sage, Salvia officinalis
Greek Oregano, Origanum vulgare hirtum
Sweet Marjoram, Origanum majorana
Chervil, Anthrisus cerefolium
Chives, Allium schoenoprasum
Thyme, Thymus vulgaris
French Tarragon, Artemisia dracunculus
Lemon Balm, Melissa officinalis
Catnip, Nepeta cataria
Rosemary, Rosmarinus officinalis
Summer Savory, Satureja hortensis
Lavender, Lavandula officinalis
Feverfew, Tanacetum parthenium
In larger dish gardens, such as a galvanised bucket, grow no more than three of the following herbs, as these can become quite large:
Hyssop, Hyssopus officinalis
Lavender, Lavandula officinalis
Pineapple Sage, Salvia elegans
Lemon Verbena, Aloysia triphylla
Feverfew, Tanacetum parthenium
Echinacea, Echinacea angustifolia
Valerian, Valeriana officinalis
Bergamot, Monarda dydima
Aloe, Aloe vera
Spearmint, Mentha spicata
Peppermint, Mentha piperita
Catnip, Nepeta cataria
Purple Sage, Salvia officinalis 'Purpurea'
Lemon Balm, Melissa officinalis
Oregano, Origanum vulgare
You will find that your herbs will quickly outgrow their pots or containers, but that is what nature intends. You are then free to enjoy your herbs in new forms: as craft materials, as culinary delights, as landscape ornamentals, or as remedy ingredients to heal yourself or your family members. Herbs serve so many purposes that they deserve a special place in your home, so bring them in and make them a part of your family. You will not regret it, I promise you.
By Raymonde Savoie Johnson
Back to Growing Herbs from List of Herbs
Back to Healthy Eating Guide home from List of Herbs
My selection of herbs and spices were delivered quickly and were of the best quality I have seen. Great service, fantastic products. Fresh organic herbs from a supplier I trust. - Susan S.
Overall, it was a very positive experience.... they treated me in an exemplary manner when I first ordered from them. I got exactly the product I needed/ordered/expected vis-a-vis the sprouting wheatgrass seeds. I would certainly order from them again for anything that specific. - geo442