Natural Healing Herbs
The Healing Power of Herbs - Part One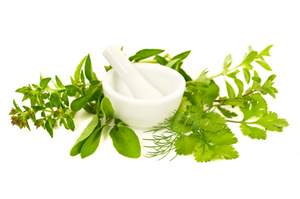 It is no mystery that herbal medicine is the oldest form of healing on this planet. Natural healing herbs have been used for centuries as healing agents because they lend themselves so well to cultivation, preservation and administration, given their phytochemical compositions.
There is an increasing groundswell of interest in anything herbal going on in the mainstream community, and here on Growing Raw, we wish to provide our readers with the most factual and reliable information that we can on this interesting and wide subject.
If I were completely new at learning the art of herbal medicine, or making simples, I would want to know the following:
What are herbs?
What is a 'simple' or herbal remedy?
Are herbs safe?
How do herbs work or heal?
How do I know which ones to use?
How do I use, or take them?
How do I grow them?
If I can't grow them, where do I acquire them?
How do I know which herbs are safe for me and which are not?
To be fair to the herbs, we can't cover all the answers to these questions in one article. Instead, we'll spread out this informative data over the span of a few articles to better provide you with as much information as this subject deserves.
My research as a Plant Scientist has led me to believe that herbs, when chosen and used in a safe manner, can be very effective to treat a wide variety of ills suffered by human beings on this planet. After all, we as a species have lived alongside plants for millennia and history shows that throughout the ages, humanity has always relied on plants for food, ceremony, shelter, clothing and for healing purposes.
I will not try to reinvent the wheel here by giving you a long essay on the history of natural healing herbs. Instead I will focus on why and how herbs can be helpful as your personal healers, and conversely, if chosen or used improperly, how they can be harmful.
What are herbs?
Definitions of the word 'herb' abound in literature, so for our purpose we will stick to a simple, yet descriptive, definition taken from Smith's book 'The Illustrated Earth Garden Herbal',
" … A herb is usually accepted today as being a plant that is used either for culinary, flavouring, for its aroma, for its medicinal uses or for its beauty." (1)
Herbs, traditionally thought of as being smallish plants that you grow beside your potager or in a pot on your kitchen windowsill, are now considered to belong to a wider range of plant life. Food plants such as garlic, apple, blueberry and pomegranate, to name just a few, are made up of so many powerful compounds with health-promoting properties that they, too, are now considered medicinal herbs.

What is a simple or herbal remedy?

Healing Power of Herbs - Part Two

by Raymonde Savoie Johnson
Pl. Sc. Tech., Herbal Consultant
References
(1) Smith, Keith Vincent, The Illustrated Earth Garden Herbal, A Herbal Companion, Thomas Nelson Australia Pty Ltd, Melbourne, 1978.
Back to Growing Herbs from Natural Healing Herbs
Back to Healthy Eating Guide home from Natural Healing Herbs