Starting a Raw Food Diet
Starting a raw food diet is easier than you may think. You can start eating a raw food diet as slowly or as rapidly as you like. Choose what will suit your lifestyle, and make it enjoyable. You will soon start to feel so good that your enhanced wellbeing strongly motivates you to continue with going raw. Also your tastebuds seem to change until you prefer the thought and flavour of a big fat juicy salad to anything else! Seriously, that's what I usually crave whenever I'm hungry, especially kale & avocado salad – yum!
The good news is you don't have to go 100% raw to feel heaps better. Maintaining a 100% raw diet is often difficult, socially and financially. A more feasible and still beneficial target for most people is to increase their raw food intake to at least 50%. After all, if everyone increases their raw food intake (and decreases their meat intake) this will be more beneficial to the planet than a much smaller group achieving a 100% pure raw diet. Personally I aim for 80%-90% raw, which many raw foodists refer to as "high raw". Most days are fully raw, but I indulge in cooked food during some social events and family gatherings.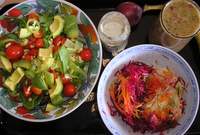 It's surprising the number of people who already carry the seed of an idea to improve their health through their diet, and are easily inspired to take some positive steps. If you're overwhelmed by the idea of starting a raw food diet, take it slow and look for easy and enjoyable ways to include more vegetables and fruits in your diet. Here is how various people I know increased their raw food intake:
I was inspired by my personal energy crisis to leap in and go raw initially at 95%-100%. Soon after starting a raw food diet I felt a significant increase in my energy levels. Over time I've found 80%-90% to be a more balanced and happy medium, I actually feel better eating some cooked food. However, researching raw food has convinced me to become vegetarian out of love for the planet I and my children live on.
My Dad is a committed carnivore, and I expected him to be the greatest sceptic and give me quite a hard time about starting a raw food diet. The opposite happened. He was so pleased at how well I was that he became interested in the changes I was making to my diet. He surprised us all by liking green smoothies (as long as they're sweetened with lots of bananas) and he and Mum blend green smoothies up a couple of times a week now as a treat. They also decided they should eat a more healthy breakfast, starting the day with fresh fruit (often an apple) and freshly squeezed orange juice. This at least pushes out their usual breakfast of coffee and toast to morning tea time, which in turn replaces the unhealthier cakes and bikkies that were Dad's previous habit.
My Mum has always wanted to edge Dad away from his meat addiction, and is now creating more salad alternatives to accompany main meals. Eating more salad leaves less space on the plate and in Dad's stomach for the meat, and also gives her a choice to completely avoid eating meat by having a larger helping of salads.
My sister and her husband had been thinking for a while about improving their diet, and decided to give daily green smoothies a try. Next thing my sister was swimming 100 laps of the 50m pool – she assures me it's not just because of the green smoothies, but they helped increase her strength and endurance. She had to be feeling positive to set such a huge goal in the first place!
My partner has accompanied me on my raw journey, and probably eats about 60% raw by sharing green smoothies in the morning, taking a snack pack of fresh fruit and nuts that I make him when I'm chopping up for my own breakfast, and feasting on the delicious raw salads I'm getting into creating. He has also been pretty much convinced that vegetarianism is the best choice for the planet.
My kids always ate well and frequently organic. However, after researching the benefits I'm more committed to consistently feeding them organic food, including some organic meat. They have fresh fruit or vegetables with every meal. The main increase in their raw food intake has been through their own curiousity - they want to try what we're eating, and love to sample while I'm preparing food. They also love to pick and eat what we grow, and get involved in growing food themselves.
Visitors to our house have reported that the morning green smoothie they've shared with my family has powered them through the day.
Top tip: Start your day with a green smoothie
One of the easiest and yummiest ways of starting a raw food diet is to get in the habit of beginning your day with a green smoothie. As you can see from the above examples, green smoothies can play a huge role in shifting your diet up a health gear. The energy and nutrition they provide fuels your body better and inspires you to reach for more healthy choices so you can enjoy the buzz for longer.
Back to Raw Food Health from Starting a Raw Food Diet
Back to Healthy Eating Guide home from Starting a Raw Food Diet