Healthy Nutritious Snack Foods
Ideas for Quick, Easy and Healthy Snacks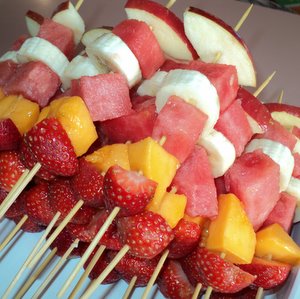 Healthy nutritious snack foods are a key element of maintaining a daily healthy eating plan. These quick, easy, healthy snacks give you a boost of energy and help keep you on track to reach your goals.
Healthy snacking may be one of the most important keys to being able to maintain a healthy eating plan. Healthy eating does not mean you should ever feel deprived or like you are starving yourself. On any healthy eating plan, you should be listening to and respecting your body's cues about its hunger.
By making the some good choices about the foods you are choosing, you should never have to feel guilty about grabbing a snack. Many easy healthy snacks are delicious, and will make you feel like you are treating yourself!
Why Choose Healthy Nutritious Snack Foods?
Eating healthy nutritious snacks foods can keep you from making some more impulsive food choices. When you are starving and your blood sugar is low, you may be tempted to eat the first thing that comes your way whether it is the most intelligent choice or not.
You should look at snacking as an opportunity to replenish your body or to give it a power boost. Snacks are enjoyable ways to get your body some additional protein, a mid-day natural sugar pick-me-up, or a little jolt of vitamins and minerals.
Often, after eating a junk food snack, our bodies are not satisfied on any deep level, it may trigger more cravings for other junk food, and we may feel guilty for having made those choices. What's the point of putting ourselves through that? By choosing healthier options, you can rest easy knowing that you are nourishing your body while still getting to enjoy some incredible delicious food!
Raw and Easy Healthy Snacks
A
raw food diet may seem intimidating in the beginning, even if you know that you want to consume more raw foods for the health benefits. But snacking is where raw food couldn't get any easier!
Fruits, on their own, are a delightful and refreshing snack and are full of nutrients and important fibre. Most contain a lot of liquid to keep you hydrated throughout the day.
Always keep some fruit within plain sight in your kitchen and you will be compelled to grab a piece of fruit before you go for a less healthy choice. Think in-season, ripe raspberries or strawberries, plump grapes, exotic mango or papaya, refreshing pineapple, a juicy peach or apricot, a crispy and tangy green apple, or a vitamin C-rich orange or tangerine.
As for veggies, a classic health food option is carrot or celery sticks. If the idea of these choices bores the living daylights out of you, try dipping them into peanut butter or a raw hummus. Try some veggies raw that you would normally eat cooked, and you may find that you like the intense flavour. For example, raw asparagus is crispy and crunchy and makes for a great snack. Peas may seem like a strange option, but when they are fresh, they are naturally sweet and make for a fun and easy healthy snack to pop into your mouth like candy!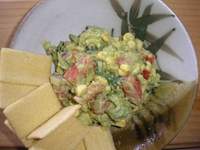 Guacamole is a great snack option that you can either enjoy with some whole grain chips or crackers, or can scoop up with red peppers or carrots. You can make homemade guacamole in literally seconds by mashing up some ripe avocado with a little sea salt, garlic, and a splash of lemon or lime juice. Add tomatoes, fresh corn or other veggies to make it even more nutritionally rich.
Other great raw food snacks that are easy to have on hand are any type of nut, such as almonds, walnuts, cashews, macadamia nuts, or pistachios. Mixed up with some raisins or other dried fruit, you can make a yummy trail mix that is packed with protein.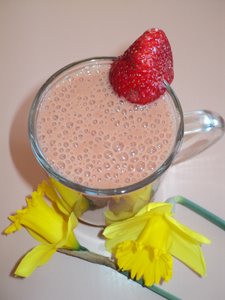 Smoothies are a delicious option and make a powerhouse snack. Throw together juices or coconut milk, fresh or frozen fruits, leafy greens, supplements such as spirulina or bee pollen , flax or hemp oil , fresh herbs like mint – basically, the sky is the limit with what you can put in a smoothie!
A food dehydrator is great for taking fruits or veggies that are in season and keeping them around for a little longer to enjoy as snacks later on. You can also dry fruits the old-fashioned way, by cutting them as thin as can be, stringing them as though they were popcorn, and hanging them from wall to wall in a warm, dry place inside. In a few days or maybe a week, you will have dried produce!
Quick Healthy Snacks for Vegetarians
A great
vegetarian
snack that is packed with vitamins and minerals is a vegetable sushi roll. These can be filled with carrots, pumpkin, avocado, brown rice, and ginger. Rice paper rolls filled with noodles and sliced vegetables are another easy healthy snack that you can prepare in advance and carry with you.
Yoghurt (make sure to have the kind that contains beneficial live cultures), boiled eggs and cubed cheeses are protein-dense choices that are good to have on hand when you really need a pick-me-up. These snacks usually make you feel full and satisfied, and the protein will give you slow-burning energy for hours.
Snacks to Avoid
Some snacks might seem like good choices at first glance, but may not offer as much nutritionally as you might think. For example, it might be tempting to throw a granola bar in your pocket or bag to ward off afternoon hunger, and with all those nuts and oats and other good-for-you sounding things, how can you go wrong?
Many granola bars contain as much sugar and as many calories as the average candy bar, and can be packed with high fructose corn syrup and other low quality ingredients. Either choose to make your own granola bars at home (it's easier than you think!) or be very discerning and read labels carefully. Your best choice is one that only contains whole grains, nuts, seeds, and fruit. If it is sweetened, try to look for ones sweetened with dates or agave nectar for a more wholesome treat.
Rice cakes and pretzels may also seem like a good choice, but while they may be low in calories, they are essentially nutritionally empty and can contain a lot of unnecessary sodium. You may also find that because they contain so much air, you never really feel satisfied or full by eating them. If you must eat them, try dipping them into hummus or spreading a little peanut or almond butter on them to at least get you some good, healthy protein.
When an ice cream urge hits, you may justify a splurge by choosing frozen yogurt. Be aware that some frozen yogurts can contain as much fat as reduced-fat ice cream, and can sometimes have even more calories! A lot of the time frozen yogurt is artificially flavoured and can also contain artificial colors. By being careful to choose an all-natural variety, sweetened with real fruit and containing live yogurt cultures, you can be assured that you are making a better choice.
So Go For Healthy Nutritious Snack Foods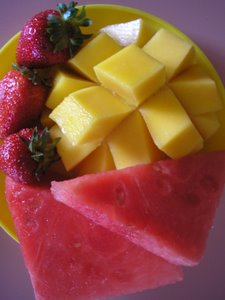 The healthy nutritious snack foods available to you are almost unlimited. You should never have to go hungry. You should also be able to feel good about your choice of easy healthy snacks knowing that you are giving your body an extra boost when it needs it.
Keep some healthy nutritious snack foods on hand at all times; at work, in your bag, in your coat pocket. When your body tells you that it is hungry you will be ready to respond lovingly by giving it the healthy nourishment it needs and deserves!
Articles Related to Healthy Nutritious Snack Foods:
Back to Daily Healthy Eating Plan from Healthy Nutritious Snack Foods – Ideas for Quick, Easy and Healthy Snacks
Back to Growing Raw Healthy Eating Guide home from Healthy Nutritious Snack Foods – Ideas for Quick, Easy and Healthy Snacks