5 Vegetable Garden Projects That Take Only 10 Minutes a Day
Vegetable Garden Tips for Time-Poor Gardeners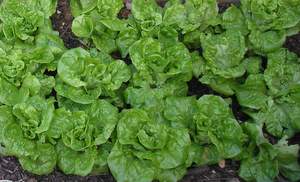 Can you find 10 minutes a day for one of these simple vegetable garden projects?
So you say you do not have enough time to garden. Maybe kids or work really do make it so that you don't have the possibility to commit to a big outdoor space filled with all sorts of fruits, veggies, and herbs.
Maybe you are a new gardener and don't know if you will like it or not, so for now you don't want to dive right in with a huge time commitment until you know that vegetable gardening is for you.
Here are a few ideas that even the most novice gardener can do to enjoy fresh produce, and all in 10 minutes a day or less. And if you do not have 10 minutes a day to devote to providing yourself with fresh and healthy food options, it may be high time to re-evaluate your priorities!
Project #1: Container Gardening
You can't say that you don't have enough time to look after one pot. A little water here and there and plucking out any browned leaves or weeds, and that is about it.
Invest in a beautiful pot and plant a couple of complimentary plants together, such as a tomato plant, a pepper plant and some cilantro. Before you know it, you will be enjoying fresh salsa from your own 'garden'!
Make sure that you buy seeds or seedlings that are specific to container gardening. These varieties will naturally grow more compactly.
Click here for more information about growing vegetables in containers , including the types of containers you can use and what vegetables grow well in containers.
Project #2: Compost
Even if you do not have time for a full fledged garden, you probably know someone that has one. And the chances are good that this person would be willing to pass some of their harvest your way in exchange for rich compost, which is like gardener's gold.
All you need to do is invest in a small compost container. You can buy these online and they come in all sizes. The smallest ones can easily fit on a patio.
Throw in all of your organic waste, such as egg shells, vegetable peelings and coffee grinds. Add some enzyme starter, which will begin to break down the material. Keep the mixture moist and stir the material every few days.
Before you know it you will magically have a rich black soil that you can trade in for fruits and veggies from someone that has more time on their hands to garden. Everyone is happy!
Project #3: Sprouting
Even the most novice gardener can manage to make enzyme-rich sprouts grow. Sprouts are a fresh and healthy addition to any sandwich, salad or stir fry.
Most sprouts will shoot effortlessly within a couple of days if you keep them damp, give them warmth and some indirect sunlight.
Place the seeds in a jar or on damp paper towel, and watch them sprout before your very eyes! If you're using a jar, prevent mould by making sure that the container is covered with something porous to let the air through. Rinse or spray your sprouts twice a day to keep them moist. Click here for more information about how to sprout beans.
Wheatgrass is another foolproof option that requires practically zero maintenance. A small tray of wheatgrass seeds can grow well on your kitchen countertop. Invest in a wheatgrass juicer and enjoy this powerfully cleansing, vitamin and mineral packed drink year round!
Project #4: Window Herb Garden
Even the smallest city apartment has a window. Place tiny pots of fresh herb plants such as basil, coriander (cilantro), parsley or oregano on your windowsill or hang them from above the window frame. Most herbs are incredibly low maintenance, and the pots are so tiny that there is not much space for weeds to grow.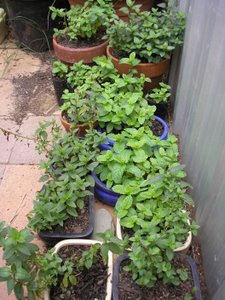 As long as the pots have holes in the bottom to drain any excess, all you need to do is throw some water their way every once in a while and they should be happy. Impress your friends and family with dishes topped with fresh herbs, grown with your own two hands!
Potted collections of hardy herbs can provide a stimulating variety of smells and flavours for your garden and kitchen. You can also interest your kids in sensory vegetable garden projects like this small mint garden.
Click here for more information about growing herbs.
Project #5: Neighbourhood Community Garden
Unfortunately everyone these days seems to have less and less free time on their hands. Why not band together with busy neighbours to create one small community garden that everyone pitches in just a few minutes a day to?
With everyone working together the garden will be sufficiently looked after. Maybe you have 10 minutes to drop in one day to pluck a few weeds, and the next day your responsibility is to water and nothing else.
At the beginning of the season, set a schedule so that everyone is clear about the job that is expected of them. You don't want 5 people arriving to water on the same day while the weeding gets overlooked.
Before you know it, you may find that this sort of community project is so enjoyable that you start cutting out other not-so-fulfilling activities in your week so that you can spend more time with your neighbours getting your hands dirty!
Articles Related to 5 Vegetable Garden Projects That Take Only 10 Minutes a Day - Vegetable Garden Tips for Time-Poor Gardeners:
What Are Your Easiest Vegetable Garden Projects?
Do you have an idea for a vegetable gardening project that takes 10 minutes or less each day? Please share...
Back to Home Vegetable Gardens from 5 Vegetable Garden Projects That Take Only 10 Minutes a Day - Vegetable Garden Tips for Time-Poor Gardeners
Back to Growing Raw Healthy Eating Guide from 5 Vegetable Garden Projects That Take Only 10 Minutes a Day - Vegetable Garden Tips for Time-Poor Gardeners