Summer Squash Vegetable Soup Recipe
Homemade Vegetable Soup Recipes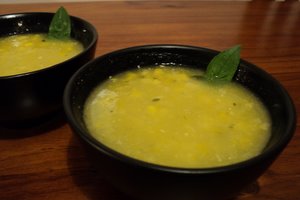 This summer squash vegetable soup recipe is a bright delight for the warmer weather. You'll need this light and tasty recipe so you can take advantage of the abundance of squash and zucchini in late Summer. The addition of sweet corn and summer herbs give this soup an appealing aroma and crunch.
Recipe
Ingredients
2 spring onions
2 large button squash (or 10-12 small button squash)
3 corn cobs (or a can of sweet corn kernels)
2 tablespoons of fresh basil
1 tablespoon of thyme
4 cups of vegetable stock
Method
Finely slice the spring onion and fry for 5 minutes.
Roughly chop button squash into chunks and fry with spring onions for 2 minutes.
Add stock, cover and simmer until the vegetables are soft (20 minutes.)
Finely chop basil and thyme and add to soup mixture.
Blend soup until creamy.
Shave kernels off corn cobs and stir into soup.
Let simmer a further 5 minutes so corn kernels will soften slightly.
Tips
Serve with a few sprigs of basil on top.
You can substitute zucchini for button squash, or use both in this recipe.
Kids love this one – I think it's the sweet crunchy corn kernels that do it for them.
Freezes well for up to 3 months.
If you need another homemade vegetable soup recipe to use up a zucchini or squash glut, check out this hearty recipe for minestrone soup. This one also freezes well so you can hold it over until the cooler days of late Autumn.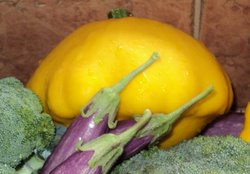 Articles Related to Homemade Vegetable Soup Recipes
Back to Homemade Vegetable Soup Recipes from Summer Squash Vegetable Soup Recipe - Homemade Vegetable Soup Recipes
Back to Growing Raw Healthy Eating Guide home from Summer Squash Vegetable Soup Recipe - Homemade Vegetable Soup Recipes