Recipe for Minestrone Soup
How to make a hearty minestrone soup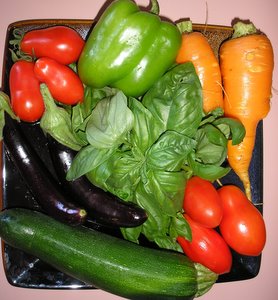 This recipe for minestrone soup will leave your tastebuds – and your stomach – satisfied for hours. Once you've tried this hearty minestrone soup you will never eat canned minestrone again – you will be spoiled for life! It's a lovely, satisfying soup for the end of Summer and Autumn when zucchinis and eggplants are in their full glory - abundant and in season.
This minestrone soup recipe is full of Nature's healthy goodness such as red kidney beans (one of the Mayo Clinic's top 10 antioxidant foods), garlic to aid digestion and tomatoes to combat cancer and protect your heart.
Recipe
Makes about 2 ½ litres.
Ingredients
1 onion
6-8 cloves of garlic
3 carrots
3 zucchini
1 eggplant (or 3-4 lebanese eggplant)
2 cans of chopped tomatoes
1 can red kidney beans
1 ½ litres of vegetable stock
2 cups uncooked pasta
1 cup fresh basil (or 2 tablespoons dried basil)
Method
Finely chop garlic.
Dice onion into large pieces
Chop carrot, zucchini and eggplant into bite-size pieces.
Fry onion and garlic until the onion is translucent.
Add carrot and fry for 5 minutes.
Add zucchini and eggplant and mix well over heat for 2 minutes.
Rinse kidney beans well and add to the soup mixture.
Add tomatoes and stock, cover and simmer until all the vegetables are soft (20-30 minutes.)
Add pasta and cook until soft. This will take a little longer than usual as the acid in the tomatoes slows the absorption of fluids.
Stir through basil just before serving, and add some whole basil leaves for garnish.
Tips
This hearty minestrone soup is a meal on its own, especially served up with some warm, crusty bread.
Keeps well in the fridge – actually it tastes even better the next day.
Freezes well for up to 3 months.
Related Articles
Back to Homemade Vegetable Soup Recipes from Recipe for Minestrone Soup - A hearty minestrone soup recipe
Back to Healthy Eating Guide home from Recipe for Minestrone Soup - A hearty minestrone soup recipe