Healthy Snack Recipes for Kids
Great Ideas for Fun Healthy Kids Snacks
Take a look at these healthy snack recipes for kids. Getting your kids to like healthy food is easier than you think if you can maintain an open mind, a little patience, and a lot of creativity!
We all know how picky small kids can be with food. So the idea of convincing your little one to even try healthy raw food snacks may seem completely unrealistic. However, they will actually enjoy these healthy snack recipes for kids so much they will beg you for more!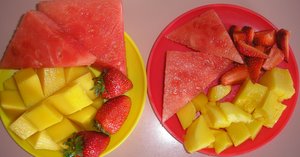 One of the biggest gifts that a parent can offer their child is healthy, nutritious food served with love. By getting kids to adopt healthy eating habits when they are young, they stand a much better chance of continuing on with healthy eating for the rest of their life.
The problem is that most parents never give their kids a chance to learn to love nutritious food. They discount the notion before they even try. They think, "Of course my kid would never eat something like that, so why should I bother making it?" Never assume that your kids won't like something! You may be surprised!
It is important to keep a relaxed attitude around food. For example, if you make a dramatic production about how healthy something is for kids and that they should eat it, they may be suspicious. If a child sees you nonchalantly snacking on something, and you offer them a bite without saying anything, they may very well take your lead and simply accept it.
Rainbow Eating
When you can make a bit of a game of it, children may have more enthusiasm towards foods that they may not normally care for. A good way to get kids thinking and eating outside of their normal routine is to create colour days. For example, make an entire day "Yellow Day". Have them try to think of as many different ways to eat yellow things.
Maybe offer that if they can figure out how to ingest 10 different yellow things in one day, they get a small reward. Good ideas for yellow foods are lemons, corn, chickpeas, eggs, yellow peppers, bananas, squash, pineapple, and yellow lentils. This is just to get you started, there are many more!
The next day, try green in the form of apples, pears, kale, spinach, grapes, sushi, mint, split pea, or green lentils. Make a week out of it and try to touch on every colour of the rainbow. Your child will be getting so many diverse vitamins and minerals, and their food choices will have expanded by leaps and bounds.
Imaginative Food
Kids naturally love to play, and who says that food should not be a form of play? If it gets your kids to enjoy eating healthy food, where is the harm?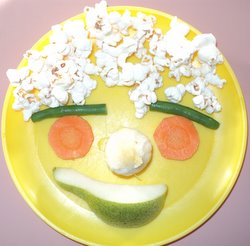 For example, an old classic is to transform regular celery into something entirely different by spreading it with peanut butter and adding some raisin "ants". Small seeds such as hemp seeds or sesame seeds can be transformed into "magic sprinkle dust". Take cookie cutters and transform whole grain bread slices into beautiful butterflies or race cars.
Creating faces, shapes and animals is a great way to spark your child's interest in healthy snack recipes for kids. Encourage your children to engage in a positive way with the food and they will soon be eating things you would never believe!
Ideas for Fun Healthy Kids Snacks
The following are a few healthy snack recipes for kids that they'll love if given the chance:
Smoothies
Smoothies are naturally kid-friendly because they are sweet and usually have vibrant, intense colors that kids are attracted to. From start to finish, you can have a smoothie made in less than 2 minutes, making it a perfect snack choice for busy parents.
Start with a frozen fruit base, such as bananas, pears, blueberries or peaches. Add fresh juice of your choice, and any extras of your choosing, such as hemp seeds, spirulina powder, or bee pollen. The taste of a few greens such as kale, spinach, or wheatgrass can easily be hidden in a potently sweet fruit smoothie. Experiment, and let your child throw in whatever they want until they find a favorite combination.
Hummus
Hummus can be a great form of protein and is something that a kid can have fun scooping up, for example with a chip, bread, piece of cucumber, red pepper or a carrot. They can even draw designs in the creamy substance. Start with cooked garbanzo beans, and in a food processor blend in liberal amounts of olive oil, tahini, a shake of sea salt and a splash of lemon juice. You can play around with adding garlic or red peppers for variety.
Seaweed Snowballs
Many parents assume that their child will not touch seaweed no matter what. But before you rule it out, try this recipe with your kids! Take small pieces of nori, 3-4 cm (1 ½ inches) square, and fill the center with brown rice and toasted sesame seeds, maybe a splash of soy sauce. Instead of trying to make intricately perfect sushi rolls, let your child wet their hands and mash the seaweed around the rice until it forms a green "snowball". You would be surprised at how many kids love to munch on these iridescent balls, and seaweed snowballs pack up well for lunches or for the road.
Earth Balls
These are sure to be a hit for kids and parents alike. Make a large batch of them to have on hand, although you will find that they may not last long! In a food processor, pulse 2 cups of almonds and 1 cup of cashews into a powder. Add 2 cups of raisins and one cup of dates. Blend until you have a thick, sticky dough that you can knead. If you need to, add a few drops of water until you get a play-dough type consistency. From here, add whatever you would like, such as raw shredded coconut, cacao or carob, fresh mint leaves, sesame seeds, or other dried fruits. Make small balls and store in the refrigerator.
Non-dairy "Ice Cream"
It does not get any more simple or delicious than this. In a high speed blender or a small food processor, place frozen, ripe banana chunks. Blend until you begin to form a creamy paste. Done! Put some in a bowl and enjoy. The texture and consistency is exactly like ice cream!
Other frozen fruits can be used, but bananas work best because they are not very watery. Top with nuts, fresh fruit, or a homemade chocolate sauce made from equal parts raw cacao powder, a little melted coconut oil, and some honey or agave nectar to sweeten.
Raw Fruit Crisps
These are a cross between a cracker and a cookie, and kids will love the crunchy texture. In a food processor, blend a ripe banana, 1 cup of strawberries or raspberries, 2 tablespoons of honey, and a tablespoon and a half of coconut oil. Slowly add a cup of almonds and a cup of oats. Spread this paste very thinly on a non-stick pan, and dehydrate in an oven at the lowest heat setting as possible, around 115 degrees Fahrenheit for 2 hours. When they look dry, score into small squares, let cool, then break into pieces.
These are just a few ideas to get you thinking. Explore and play! Again, food is one of the most basic ways we have to nurture a child and show them our love. Nutritious, diverse and healthy snacks for children will give them the best start possible to enjoy a lifetime of great health.
Articles Related to Healthy Snack Recipes for Kids:
Back to Kids Eating Healthy from Healthy Snack Recipes for Kids – Great Ideas for Fun Healthy Kids Snacks
Back to Growing Raw Healthy Eating Guide home from Healthy Snack Recipes for Kids – Great Ideas for Fun Healthy Kids Snacks