A Healthy Diet for Kids
20 ways to include vegetables in healthy kids meals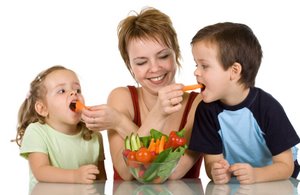 A healthy diet for kids must include several serves of vegetables daily. Generally, parents have an easier time getting kids to eat adequate amounts of fruit rather than vegetables. Whilst healthy eating messages for kids focus on eating more fruit and vegetables, increasing kids' vegetable intake is more of a challenge for parents. Here are 20 ways for parents to get creative and include more vegetables to boost the day's veggie count.
What is a healthy diet for kids?
According to NSW Health, more than 87% of primary school aged children in Australia don't eat the daily recommended amount of vegetables. The commonly recommended daily requirement for fruit and vegetables is 2 serves of fruit and 5 serves of vegetables. For toddlers and small children (4-7 years old), the Australian Better Health Initiative recommends 1-2 servings of fruit and 2-4 servings of vegetables. 8-11 year-olds should be eating 3-5 serves of vegetables daily. The lower limits are for kids with a high intake of cereals, grains, rice, pasta and noodles in their diet. A serving size comprises 75g cooked vegetables or legumes, a cup of salad vegetables or one potato.
What makes fruit easier for kids to eat? The sweetness, softness and juiciness certainly help, but it's probably also an issue of availability. Parents are more likely to serve chopped fruit with breakfasts and lunches or as snacks throughout the day, leaving the vegetables until dinnertime. At dinnertime kids are more tired and therefore likely to act out around mealtimes, adding to the vegetable eating challenge.
The task for parents then is to offer vegetables more often in forms that are appealing to children. Carrot and celery sticks are fantastic, but can only go so far. Parents need to get creative and try other ways of including vegetables in order to boost the day's veggie count.
How to include more vegetables in healthy kids meals
Start by adding just small amounts of vegetables into healthy meals for kids and gradually increase as they get used to it. The trick is not to offer so much at one sitting that your kids are overwhelmed by vegetables. Add a little to each meal or snack.
Continue to serve vegetable sticks like carrot, celery, beans and snowpeas with hommus, dips and cheese.
Blend up green leafy vegetables with fruit to make green smoothies that are easy to drink and delicious for healthy eating kids to suck down.
Grate or finely chop vegetables like zucchini, carrot, parsnip, pumpkin and onion to add to casseroles and pasta sauces.
Decorate home-made pizzas with faces or patterns made from slices of tomato, onion, capsicum, zucchini and mushrooms.
Grated carrot and zucchini, snowpea and bamboo shoots can be rolled up with noodles in rice paper rolls or with cheese in flatbread wraps.
Add grated carrot, avocado and tomato to sandwiches with cheesy spreads or hommus.
Mash potato, sweet potato and pumpkin alone or in combinations, sprinkle with cheese or top with home-made tomato sauce.
Add mashed vegetables as toppings for shepherd's pie or tuna bake.
Make sushi rolls with slices of capsicum, carrot, zucchini or avocado.
Fill burritos with bean fillings, grated vegetables and cheese.
Use leftovers from just about any vegetable casserole or bake recipe as a taco filling. Kids seem to love eating tacos, but the secret is not to overfill them. At least the juices will soak into the taco shell and the kids will definitely eat that.
Add veggie sticks or shapes to lunch boxes.
It's surprising the number of biscuit, cake and bread recipes that have vegetable variations. A friend recently switched me on to a chocolate zucchini loaf recipe that was a hit with my kids. She swears her teenage sons still don't even know there's zucchini in it.
Stir-fries with chopped zucchini, carrot, capsicum, corn kernels, peas or snowpeas served on rice or noodles with a sweet soy sauce such as kecap manis.
Fry mushroom, tomato and onion mixtures as a toast topping.
Include grated vegetables and chopped greens or herbs in frittatas, omelettes, scrambled eggs and fritters.
Serve a small bowl of grated carrot, sprouts and other vegetables as finger food.
Blend vegetables in soups and sprinkle with croutons or serve with toast fingers.
Vegetable purees like those prepared for babies can still be a hit with toddlers and preschoolers if they're served slightly thicker.
Grow snack-friendly varieties of vegetables in a vegetable garden for kids within their playspace so they can snack as they play.
If you find something that is a favourite with your child, don't be afraid to offer it often. When you find something that works, use it to your advantage.
When you're trying to get kids to eat more vegetables, don't give up too easily. Sometimes children need to be offered new foods a dozen times before they'll try it and discover they like it – or at least don't mind it!
Bottomline is that providing a healthy diet for kids means getting children to eat vegetables. It's worth continuing to experiment until you find ways of serving vegetables that they enjoy eating, otherwise you'll have ongoing battles.
Back to Kids Eating Healthy from A Healthy Diet for Kids - 20 ways to include vegetables in healthy kids meals
Back to Healthy Eating Guide home from A Healthy Diet for Kids - 20 ways to include vegetables in healthy kids meals