Chunky Vegetable Salad
The Most Easy Salad Recipe on the Planet
Chunky vegetable salads are an easy way to enjoy a variety of vegetables and get access to their different vitamins and minerals. They're bright, colourful and delicious.
This easy salad recipe is quick to make and you don't need any special ingredients, just use whatever fresh vegetables you have in the house. You can use any combination of broccoli, purple cabbage, carrots, sweet corn, salad greens, tomatoes, cauliflower, capsicum, zucchini, celery, Spanish onion, grated beetroot, mushrooms, parsley, coriander or basil in this chopped salad recipe.
Ingredients

3-6 fresh vegetables - if you use too many you'll overdo the mix of flavours
1 or 2 ripe avocados
juice of a lime or lemon
Method

Cut vegetables into ½-1 cm cubes and combine.
Add in avocado and mix the ingredients together.
Squeeze lemon or lime juice over the salad.
This salad will give you a kick of energy and well-being every time. I make this salad regularly, and it's mixture of flavours has never been the same.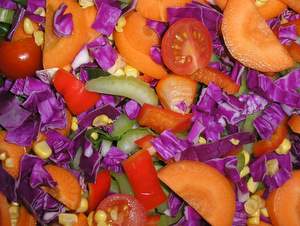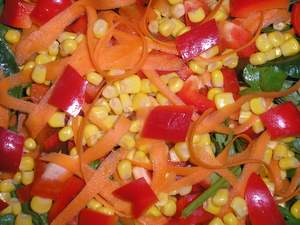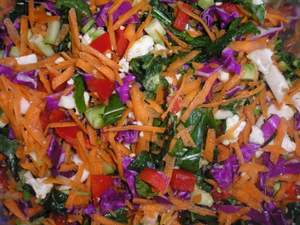 Articles Related to Chunky Vegetable Salad:
Back to Vegetable Salad Recipes from Chunky Vegetable Salad
Back to Growing Raw Healthy Eating Guide home from Chunky Vegetable Salad