Fruit and Vegetable Diet
Eating a Fruit and Vegetable Diet to Lose Weight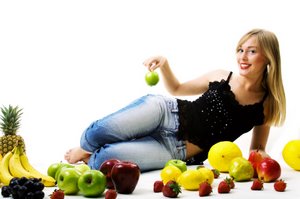 Eating a fruit and vegetable diet takes all the complexity out of eating healthy and losing weight and puts the pleasure and enjoyment back in. Find out how to cleanse and power up your body without feeling deprived or unsatisfied. You will feel more healthy, vibrant and energetic when you take advantage of the abundant fruit and vegetable diet provided by Nature.
When it comes to dieting, sometimes it is easy to get so overwhelmed and confused by all of the (sometimes conflicting!) information out there about what is good and what is bad to do when it comes to healthy eating. Some diets make things really complicated – you almost need a degree in molecular science and advanced chemistry to even try to understand what is going on and what you should be doing!
Healthy eating should be something that makes sense to you on all levels. If you understand why you are making certain changes in your diet and you can see and feel the results, you are much more likely to stick with the new healthy eating plan.
Instead of being pressured into thinking you need to buy fancy bars and shakes and costly frozen meals, keep it simple. Nature has already provided you with all of the food that you need to live a long, healthy life full of energy and vitality.
Instead of obsessively counting calories, carbs, and protein, relax. Fill your diet with fresh, preferably organic, fruits and veggies and you can be assured that your body is getting much of what it needs, all for the price of just a few meager calories.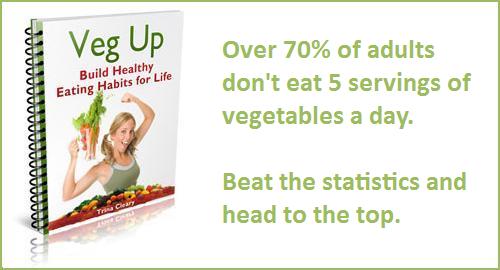 How A Fruit And Vegetable Diet Works
It's pretty simple to understand. A diet filled with lots of fresh fruits and veggies fills your body up with good things like nutrients, fiber, and antioxidants while helping your body to get rid of accumulated bad things like toxins and extra fat.
In the beginning, you may begrudgingly eat the fruits and veggies that you know you should. Depending on the diet you are used to, you may not necessarily enjoy these new foods like you think you would enjoy some of your favorite junk foods.
Your body is smart, on a deep level it intuitively knows what it wants and needs. You may soon start to crave the natural sweetness of fruits and the varying subtle flavors of veggies like you used to crave potato chips or ice cream.
Just like you may be more sensitive to someone walking into your house with muddy shoes on if you just spent all afternoon mopping, you will soon not want to dirty up your body with toxins and saturated fats and artificial colors and flavors after making the efforts to clean out your insides. Fruits and vegetables contain fibers and a lot of liquids, helping to keep you flushed out. The longer you follow a fruit and vegetable diet the cleaner your body becomes, and you will desire more natural foods.
A diet full of fresh fruit and veggies allows you some freedoms that some other diets may not. On a fruit and veggie diet, you can feel free to snack throughout the day. Grab some carrot sticks or a fresh pear, and you should never have to feel guilty or think that you shouldn't be snacking.
A fruit and vegetable diet helps you to see what you can have, instead of always making you think about what you can't or shouldn't have. If you are a dieter who still mentally thinks that you need to eat large quantities of food to be satisfied or to feel full, pile up the veggies sky high at dinner and enjoy!
This positive shift in attitude can be the difference between you being able to create and stick to long term changes in your diet. No more misery due to forcing yourself to stay with a rigid plan that stresses you out and makes you feel deprived. Why choose a diet that will only last a few weeks anyway when you can choose healthy eating habits for life?
Eating A Fruit And Vegetable Diet To Lose Weight
By consuming fruits and vegetables as a major part of your diet, you will effortlessly be consuming a lower number of calories than if you were filling your diet with other foods.
For example, you can enjoy a juicy tangerine for less than 40 calories, or a full cup of strawberries for only 45 calories! Do you know how many peanut M and M's you get for those same amount of calories? Four! And let's be honest here, what is the likelihood that you would stop after eating four?
Most people are not successful with their dieting plans because they feel like they are depriving themselves. Who would want to stick with any program that makes you feel like that? With fruits and vegetables, you are encouraged to have as many as you like, and to try as many different varieties as possible.
Some modern day diets have you drinking shakes as a meal every day, to be supplemented by bars. This definitely gets old after a while, especially when you consider other infinitely more appealing options.
Have a breakfast consisting of a rainbow assortment of ripe red strawberries, plump blueberries, succulent orange cantaloupe, and sunshine-like pineapple. The next day mix it up with some rosy grapes, fresh mango, creamy banana slices, and tart raspberries. Now if you had to choose between this and a chalky shake that you have to drink every day for months, which do you think would satiate your eyes, stomach, and soul more?
Which is a more attractive option for lunch, a power bar that you are done eating in 2 minutes that still leaves you hungry, or a large, gorgeous salad of pungent arugula, grated purple cabbage, sweet red and yellow peppers, bright orange crunchy carrots, and some earthy portabella mushrooms? With all of the different varieties available of fruits and veggies your meal options should never leave you bored or uninspired.
Also, when dieting, you may have a tendency to reach for less-than-healthy snacks if your blood sugar begins to go down. Your body will want a quick fix, and you may thoughtlessly quick grab a candy bar or something along those lines to try to get your blood sugar back to normal. By consistently eating fresh veggies, and especially fruits, throughout the day, you will be providing your body with a consistent source of easily absorbed, natural sugars, lessening your swings and cravings. Fructose, the natural sugar found in fruit, does not take much energy to digest and does not tax the insulin production in your pancreas like some other sugar sources.
Fruit And Vegetable Diet Tips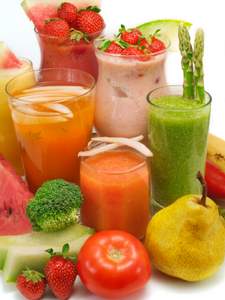 You may be so excited about fruits and vegetables at this point that you want to go stuff your face with anything that seems like a fruit or a vegetable. But not all produce is created equally, and there are definitely some more intelligent choices than others when it comes to dieting.
For example, while it is fine to include dried fruits and veggies in your diet to mix things up, they usually carry a lot more calories and concentrated sugar so they should be used sparingly. For example, a medium apple has on average 70 calories, but a cup of dried apples will have more than 200. A fresh peach will have about 35 calories, but 5 dried peaches pieces will account for more than 150 calories.
Also, be careful to not overdo fruit juices. While they may seem like a refreshing and healthful option, especially compared to soda pop, they still contain quite a bit of natural sugars and the calories can add up. Plus, you are missing out on the fiber of the whole fruit, which is important to helping to keep you feeling full and flushed out.
The best vegetables for dieting combine high fibre content with low calories and a powerhouse of nutrients and anti-oxidants.
When it comes to fruits and veggies, always reach for the real deal, the closest to its natural form as you can find. For example, a ripe tomato straight from the garden or an apple just picked from the tree is a much better choice than, for example, something from a can that has lost most of its nutrients and flavor over time and may be soaking in something like salty water or high fructose corn syrup.
Try to make an effort to eat seasonally with local produce, and you can be assured that your body is getting the freshest fruit and vegetable diet possible. Be aware that if you buy strawberries in the middle of winter, they may have travelled for weeks, across many countries, before they arrived at your grocery store. Those same strawberries bought from your local farmer's market in the summertime will have a lot more nutrients in addition to fresh, mouth-watering flavor.
By now, I hope that you are motivated to make fresh fruits and veggies a main star component in your new daily healthy eating plan. And, honestly, why not? With a fruit and vegetable diet you get to enjoy a seemingly endless variety of colourful and flavorsome food options that provides your body with fiber, vitamins and minerals, important fluids and tons of antioxidants. You will naturally begin to clear accumulated toxins out of your body. You will find that you effortlessly shed unwanted pounds, while never having to feel deprived or hungry again.
Dieting never has to be complicated again – take advantage of what nature has so abundantly provided us all with, and enjoy the new, healthy, vibrant and energetic you!
Back to Best Weight Loss Plan from Fruit and Vegetable Diet
Back to Growing Raw Healthy Eating Guide home from Eating a Fruit and Vegetable Diet to Lose Weight