Sweet Potato Soup Recipe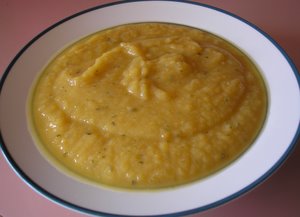 The ginger in this sweet potato soup recipe adds a little spiciness and aids the digestion of this simple yet nutrient rich soup.
Starring the natural superfood power of sweet potato, this soup can lift your mood, strengthen your bones and combat cancer. It's also a top energy source as sweet potatoes are rich in carbohydrates. Sweet potato is a blood-building vegetable, containing iron, manganese and copper.
Sweet Potato Soup Recipe
Ingredients
2 leeks
2 cloves finely chopped garlic
1 large sweet potato
2 carrots
1 litre of vegetable stock
2 tablespoons freshly grated ginger
Method
Peel and chop sweet potatoes into large chunks.
Wash and chop carrots into large chunks.
Finely chop the leeks and fry until slightly brown.
Add other sweet potatoes and carrots and fry for 5 minutes.
Add stock and mix through with vegetables.
Cover and simmer until all the vegetables are soft (20-30 minutes.)
Stir through ginger just before removing soup from heat.
Cool soup for 5-10 minutes then blend.
Tips
Leave the peel on the carrots to retain nutrients which are densest closer to the skin of the vegetable.
You can substitute an onion for the leeks if you prefer.
Adding ginger towards the end of cooking reduces the amount of heat damage to the beneficial oils in ginger.
Freezes well for up to 3 months.
Articles Related to Homemade Vegetable Soup Recipes
Back to Homemade Vegetable Soup Recipes from Sweet Potato Soup Recipe