Medicinal Uses of Aloe Vera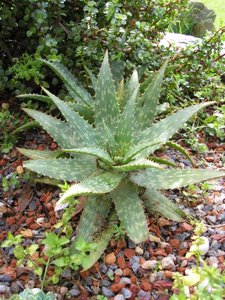 One of the main medicinal uses of Aloe Vera is as a salve for the skin. Make wise use of the Aloe plant as the best first aid home remedy for minor cuts and bruises.
When making aloe vera remedies use only an organically-grown houseplant or an outdoor plant that has not been exposed to auto exhaust fumes or pesticides.
Aloe contains phytochemicals that provide optimum topical rescue in that they have antiviral, antiseptic, antibacterial, antihistaminic, anesthetic, anti-inflammatory, emollient and immunostimulant properties.
Aloe vera remedies
Aloe is only for external use in cases of mild burns, skin abrasions or sunburn. Cut open one leaf lengthwise, scrape the inner flesh with a small knife and place on sterile bandage. Place another clean cloth, preferably a permeable fabric such as cheesecloth, on top of this fresh plant material and then apply to affected area immediately, securing with an adhesive tape. If the bruise is too tender to treat with a bandage, simply apply the Aloe juice directly on the affected area and leave as is. Reapply as needed. The pain and tenderness will soon dissipate.
Aloe Vera jelly squeezed straight from the plant makes a soothing salve for nipples chafed from breastfeeding. Gently rub Aloe Vera into the skin after each feed. For this reason, Aloe Vera plants make great presents for new mothers. Aloe Vera is also good for skin irritations and insect bites.
Growing aloe vera plants
Aloe Vera prefers hot, dry growing conditions in full sun. They're vulnerable to heavy frost. The Aloe Vera plant stores moisture in its leaves, and without good drainage Aloe Vera plants tend to rot. Aloe Vera can be grown in pots. New Aloe Vera plants are easily grown by transplanting the small suckers that cluster around the base of mature Aloe Vera plants.
We do not diagnose or prescribe, and we strongly urge you to see your healthcare professional if you are suffering from any condition or chronic illness. Herbs can be dangerous if not identified or used correctly. Herbs do not replace advice or treatment from your healthcare professional. Please read this important caution regarding the safe use of herbs.
The above plant's phytochemicals and phytochemical properties are selectively cited by the author from the Dr. Duke's Phytochemical and Ethnobotanical Databases, http://www.ars-grin.gov/duke/plants.html, Jim Duke and Mary Jo Bogenschutz.
Related Articles
Back to Growing Herbs from Medicinal Uses of Aloe Vera
Back to Healthy Eating Guide home from Medicinal Uses of Aloe Vera