Fresh Spinach Salad Recipes
Spinach Salad Recipe with Pine Nuts, Coconut and Dried Cranberries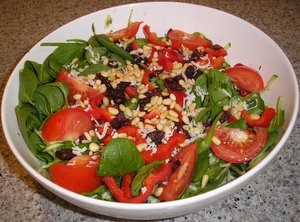 Adding some pine nuts, shredded coconut or dried cranberries to fresh spinach salad recipes gives them a new level of tasty interest. Add all three and you get a spinach salad recipe that is a taste sensation.
Spinach Salad Recipe with Pine Nuts, Coconut and Dried Cranberries
Ingredients
3-4 cups baby spinach or other dark leafy greens
2 tomatoes
1 red capsicum
1 zucchini
1/4 cup pine nuts
1/4 cup craisins (dried cranberries)
1/4 cup shredded coconut
Method
Wash and dry greens.
Grate the zucchini.
Slice the capsicum thinly.
Chop tomatoes into quarters.
Gently combine greens, zucchini and capsicum in a large salad bowl.
Arrange tomato quarters on top.
Sprinkle with coconut, pine nuts and craisins.
Tips
Serve with a light and simple salad dressing such as olive oil and white wine vinegar (2 parts to one).
You can substitute dried apricots or goji berries for the dried cranberries.
This salad matches well with a BBQ in Summer.
Back to Vegetable Salad Recipes from Fresh Spinach Salad Recipes
Back to Healthy Eating Guide home from Fresh Spinach Salad Recipes