Evening Primrose Benefits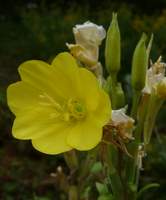 Evening primrose benefits health in numerous ways. With little doubt, this plant deserves special attention when it comes to seeking herbal healing.
The First Nations of Canada used the whole plant for many different indications: obesity, bowel pains, hemorrhoids, bruises, muscle pains, insomnia, restlessness in children, hyperactivity, and menstrual distress, all of which have been proven to have medicinal validation with modern testing. It's also a mood regulator and contributes to a feeling of well-being, especially in times of stress. Being the "best source of Tryptophan, which leads to cerebral serotonin," according to Dr. James A. Duke, it can help or even alleviate incidences of depression in some cases. Today it is widely prescribed for Chronic Fatigue Syndrome and Fibromyalgia patients.
The flowers of evening primrose, Oenothera biennis, are pale yellow, trumpet-like and open only at dusk or on cloudy days, hence its name. The seed contains many healing Essential Fatty Acids, chemicals vital for prostaglandin production, hence its reputation as a potent healer. Containing 10% GLA, the seed oil has been proven in more than 120 scientific studies to be helpful in the following conditions: atopic eczema, allergy-induced eczema, asthma, migraines, inflammations, PMS-PMT, breast problems, metabolic disorders, diabetes, arthritis, and alcoholism. Other areas where it has been proven to be helpful are lowering high cholesterol, lowering high blood pressure, balancing the immune system, reducing acne and other skin problems such as dermatitis, and lessening the severity of Multiple Sclerosis and Fibromyalgia symptoms.
How to use evening primrose
The seeds of this common 'weed' have been extensively studied and found to contain many healing agents, especially its gamma-linolenic acid, and is available as capsules in health food stores. To use in your home and to get limited benefits, add the seeds of the evening primrose plant to smoothies, on your cereals, or in your baked goods.
The leaves contain a potent antioxidant, quercitin, as well as tryptophan, and can safely be used for many evening primrose benefits. Chop up the leaves and place in a salad or in soups or use the leaves in teas, infusions and to make tinctures or glycerines. These can be used to treat coughs and colds, flatulence and colic.
Use the leaves and roots to make poultices to treat bruises and inflammation, cuts and abrasions, skin irritations and bites.
Growing Evening Primrose
Evening primrose, Oenothera biennis, likes a sunny position and grows well in most well-drained soils. It grows to a large plant and can be sown from seed in late Summer. Evening primrose is a biennial plant, with yellow, fragrant flowers appearing in the second year.
Safe use of herbs
We do not diagnose or prescribe, and we strongly urge you to see your healthcare professional if you are suffering from any condition or chronic illness. Herbs can be dangerous if not identified or used correctly. Herbs do not replace advice or treatment from your healthcare professional. Please read this important caution regarding the safe use of herbs.
Evening primrose's phytochemicals and phytochemical properties are selectively cited by the author from the Dr. Duke's Phytochemical and Ethnobotanical Databases, http://www.ars-grin.gov/duke/plants.html, Jim Duke and Mary Jo Bogenschutz.
Back to Growing Herbs from Evening Primrose Benefits
Back to Healthy Eating Guide home from Evening Primrose Benefits