Easy Potato Soup Recipe
How to make potato soup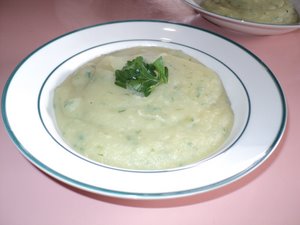 This is an easy potato soup recipe that suits even the most challenged-in-the-kitchen kind of cooks. There aren't any major secrets behind how to make potato soup... chop, boil in stock, blend...
The difference to sparking up a simple potato soup is in the ingredients you add, such as spring onions, garlic and parsley.
By no means do you have to blend your potato soup, it depends if you like it creamy or chunky. Suit yourself. You can also add any additional vegetables you have to hand if you like.
Recipe
Makes just over 2 litres.
Ingredients
1 tablespoon olive oil or rice bran oil
6 spring onions
3 cloves garlic
1 kg potatoes
3 cups vegetable stock (about 750ml)
2 cups water
1 cup parsley
chives (optional - for garnish)
Method
Finely chop onions and garlic.
Wash, peel and chop potatoes into approximately 2cm cubes.
Fry spring onions and garlic for 2-3 minutes.
Add potato cubes and stir over heat for another 5 minutes.
Add vegetable stock, cover and simmer until the potatoes are soft (about 30 minutes.)
Stir in roughly chopped parsley.
Cool soup for 5-10 minutes then blend.
If you wish, add water until the soup is thinned to the desired consistency.
Serve garnished with chives or parsley.
Tips
This soup is very filling, so serve it as a main for lunch or a small dinner, rather than as an entree.
You can substitute leeks or onion for the spring onions, no problem.
Freezes well for up to 3 months.
Keeps well in the fridge for up to a week.
Articles Related to Homemade Vegetable Soup Recipes
Back to Homemade Vegetable Soup Recipes from Easy Potato Soup Recipe - How to make potato soup
Back to Healthy Eating Guide home from Easy Potato Soup Recipe - How to make potato soup