Detoxification Plan
How much detoxification time do you need?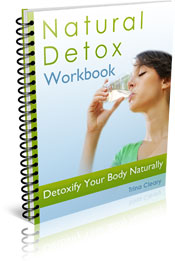 Make a detoxification plan that builds you up to the maximum detoxification time you can manage. Aiming for at least one week of detox is an excellent goal that will powerfully improve your health.
Detoxification time
The detoxication time needed varies from person to person. Those who have an unhealthier lifestyle will have more to detox. Also, people who are overweight tend to accumulate toxins which are stored in body fats. These toxins can be gradually released during a healthy weight loss program.
Most detoxification programs last between 7 to 14 days. It's ideal to provide your body with the nutrients it needs to naturally detox at your own speed, whilst abstaining from indulging in caffeine, alcohol and other drugs. Many body detoxification programs offer speed detoxification based on chemical processes or fasting, but this can be harsh on your body and doesn't build healthy eating habits that will help your reduce your toxicity long term.
But how long does it take to completely detoxify your system? In The Sunfood Diet Success System, David Wolfe suggests that for every year of "toxic" living a full month of detox is required. Although you will already notice significant improvements from detoxifying over a shorter period, for an adult this theory generally means that a complete system detoxification would take 2-3 years! Wolfe recommends a raw food detox as the most natural, healthy and effective method of detoxification.
Studies show that 98% of your body's atoms are replaced every two years, and that it takes about seven years to completely replace all the atoms in your body. Basically, over several years you can entirely reconstruct your body using only the healthiest foods and drinks.
Detoxification Plan
When you're aiming to detox your body through healthy eating, planning for a series of detox periods can help you build up to a longer detoxification time. For example, your first detox could be for just a day, then a week later detox for 3 days. Give yourself a week's break then detox for a whole week, then try a fortnight. If you're highly motivated and disciplined you can start with a 7 or 14 day detoxification diet.
Week 1: Detox for 1 dayWeek 2: Detox for 3 days in a row (3 day detox diet)Week 3: Detox for the entire week (7 day detoxification diet)Week 4: Give yourself a one week break.Week 5 onwards: Detox for a longer period, at least a fortnight.
One of the advantages of using an all natural detox diet to cleanse your body is that you aren't rushing yourself through the process. This allows your body to deal with a gradual release of toxins, rather than a rush of toxins that will lead to heavier detoxification symptoms.
The ultimate aim would be to live your detox. Eating only healthy food or raw food longer term allows for the full effects of detoxification to play out in your life; a clearer and more energetic version of yourself will gradually emerge.
Stages of Detoxification
Generally speaking, days 1 and 2 of a detoxification phase are the biggest drag. Getting seriously started is hard and then the first couple of days of changing habits are a real challenge. It takes a lot of stamina to pull through and turn away from temptation in the first 48 hours.
It's useful to acknowledge the requirement to concentrate your efforts in the first 48 hours in particular. Enlist every strategy, diversion and support person you can to get yourself through this initial period.
On day 3 you will begin to feel like a butterfly emerging from its cocoon. The detox process moves quite rapidly once you cut off any toxins that are going into your body and make sure only healthy food and water enter your system. By day 3 you will already start to feel yourself shrugging off your poisoned cloak, lifting your head and opening your eyes with fresher, more colourful vision.
Take on as long a detoxification time as you are able. Undertaking a 3 day detox is a fabulous effort. Extending it to a week will reap major benefits for your health and give you a more positive outlook on life. Altering your eating habits long-term so that you minimise your toxicity indefinitely will practically give you superpowers.
Back to All Natural Detox Diet from Detoxification Plan
Back to Healthy Eating Guide home from Detoxification Plan