Broadbean and Basil Salad
Vegetable Salad Recipes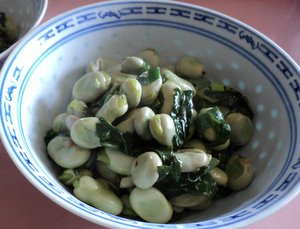 This broadbean and basil salad recipe is simple to prepare and very filling. Basil and garlic give the broadbeans a more interesting flavour and ensure that each glossy bean is a flavoursome mouthful.
Ingredients

1/2 kg shelled broad beans (just over 1kg unshelled)
1 bunch fresh basil
2-3 garlic cloves
4 tablespoons of olive oil
2 tablespoons white wine vinegar
1/2 teaspoon of salt
Method

Steam shelled broadbeans for 3 minutes.
If you wish, remove steamed broadbeans from their skins. (We leave them on and take advantage of the extra roughage!)
Roughly chop the basil and divide into two piles.
Finely chop garlic and lightly fry in 2 tablespoons of olive oil until golden brown.
Add half the basil and stir through the oil and garlic.
Add broadbeans and salt and cook for 5 minutes, stirring often.
Mix white wine vinegar and remaining olive oil in a separate bowl (or shake it up in a clean glass jar.)
Pour vinegar and oil mixture over beans just before serving.
Garnish with remaining basil.
Articles Related to Broadbean and Basil Salad:
Back to Vegetable Salad Recipes from Broadbean and Basil Salad
Back to Growing Raw Healthy Eating Guide home from Broadbean and Basil Salad - Vegetable Salad Recipes