Lemon Balm Uses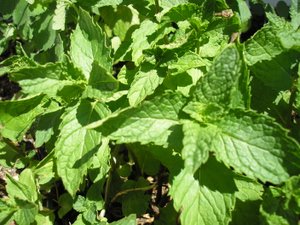 Lemon balm uses extend from the culinary to the medicinal, as detailed in this article. The textured leaves of the Lemon Balm are well known for their aromatic, lemony scent and how they lend a delicious flavour to many recipes in the kitchen. Lemon Balm also belongs in your medicine cabinet where it can be helpful in many ways.
Lemon balm, or Melissa officinalis, contains analgesic and carminative chemicals that make it ideal as a tummy soother for indigestion and stomach problems. It is mild and can be given to children to calm colic spells or irritable times. As a sleep inducer, Lemon Balm can help wind down an overactive mind in a gentle, unobtrusive way.
Its strong anti-viral and anti-bacterial properties have been proven to treat Herpes simplex flareups and cold sores, colds and flu, viral and bacterial infections, coughing, allergies, candidiasis, and urinary tract infections. With antispasmodic and anti-inflammatory qualities, Lemon Balm acts to relieve pain in menstrual problems, muscle spasms, headaches, arthritic and joint pain, Fibromyalgia and soreness associated with exercise. Chronic Fatigue Syndrome sufferers can benefit from its antioxidant, detoxicant, immuno-stimulant and health-promoting properties. It is recommended for people undergoing a convalescent period and for those suffering from allergies and fever. Last but not least, Lemon Balm contains compounds that could be a possible aid in preventing Alzheimer's Disease because of its high concentration of rosmarinic acid.
Lemon balm uses
Chop up the tops and leaves and place in baked goods, salads or in soups. Leaves may also be used to make lemon balm teas, infusions and tinctures or glycerines. Lemon balm tea can be used to relieve anxiety and tension and ease sleeping difficulties. Lemon balm can also relieve headaches and treat fever.
A cooled wash of lemon balm tea can be used to clean cuts and abrasions and soothe skin irritations and bites.
Lemon balm and thyroid problems
Lemon Balm is an herb from the Mint family and will affect the thyroid in a negative way if used a lot by people who suffer from any thyroid problem.
Growing lemon balm
Grow lemon balm plants from seed in Spring and Autumn, or by division or cuttings over Spring. In the right conditions, the lemon balm plant grows into a brightly green and sprawling bush that is very attractive and sweet-smelling in the garden.
The lemon balm plant is not as hardy as some other herbs. Keep water up to lemon balm in hot or dry weather so its shallow roots don't dry out. Protect plants from severe frosts. Lemon balm prefers sunny or semi-shaded positions and can be grown in medium to large pots.
We do not diagnose or prescribe, and we strongly urge you to see your healthcare professional if you are suffering from any condition or chronic illness. Herbs can be dangerous if not identified or used correctly. Herbs do not replace advice or treatment from your healthcare professional. Please read this important caution regarding the safe use of herbs.
Lemon balm's phytochemicals and phytochemical properties are selectively cited by the author from the Dr. Duke's Phytochemical and Ethnobotanical Databases, http://www.ars-grin.gov/duke/plants.html, Jim Duke and Mary Jo Bogenschutz.
Related Articles
Back to Growing Herbs from Lemon Balm Uses
Back to Healthy Eating Guide home from Lemon Balm Uses